Chicken & cashew tostadas
Ingredients
1 1/2 cups spiral pasta (omit for Low Fuel)
1 sweet potato, peeled and cut into 1.5-2cm cubes
3 tomatoes, diced
2 Lebanese cucumbers, diced
400g can pineapple pieces in natural juice, drained and diced
freshly ground black pepper
olive or canola oil spray
500g chicken tenderloins or skinless chicken breast fillets, sliced
1 onion, finely chopped
1 red capsicum, deseeded and cut into small strips
60g unsalted cashew nuts
juice of 1 lemon
12 enchilada tortillas
1 iceberg lettuce
200g Mexican salsa
200g PETERS FARM Natural No Fat Set Yogurt
chopped fresh coriander leaves, to serve
Method
Cook pasta according to packet instructions (omit for Low Fuel).
Cook sweet potato in microwave for 5 minutes on HIGH or until soft.
Combine tomatoes, cucumbers and pineapple in a small bowl to make a salsa.
Season with pepper and set aside.
Spray a no-stick wok with oil and stirfry chicken in batches over medium-high heat until browned.
Set aside.
Add onion to wok and cook until soft.
Add capsicum, cashews, pasta, chicken and sweet potato, and stirfry until chicken is tender.
Season with lemon juice and pepper. Meanwhile, heat tortillas in microwave on HIGH for 30-60 seconds or until warm and flexible.
To assemble, place 2 tortillas on a plate, overlapping in centre.
Cover with lettuce leaves, then spoonfuls of stirfry mix and homemade salsa.
Top with a dollop each of Mexican salsa and yogurt and sprinkle with coriander.
Athletes with high fuel needs (e.g. endurance athletes, athletes who are growing, athletes aiming to increase muscle mass) require extra carbohydrate-based ingredients and a larger serve size
Athletes with low fuel needs (e.g. skill-based athletes, athletes trying to reduce body fat) need to opt for a smaller serve size
Nutrition
ANALYSIS

High Fuel




4

Low Fuel




6

Energy (kJ)

3138

1582

Protein (g)

47

27

Fat (g)

17

11

Carbohydrate (g)

93

38

Calcium, Iron, Vitamin C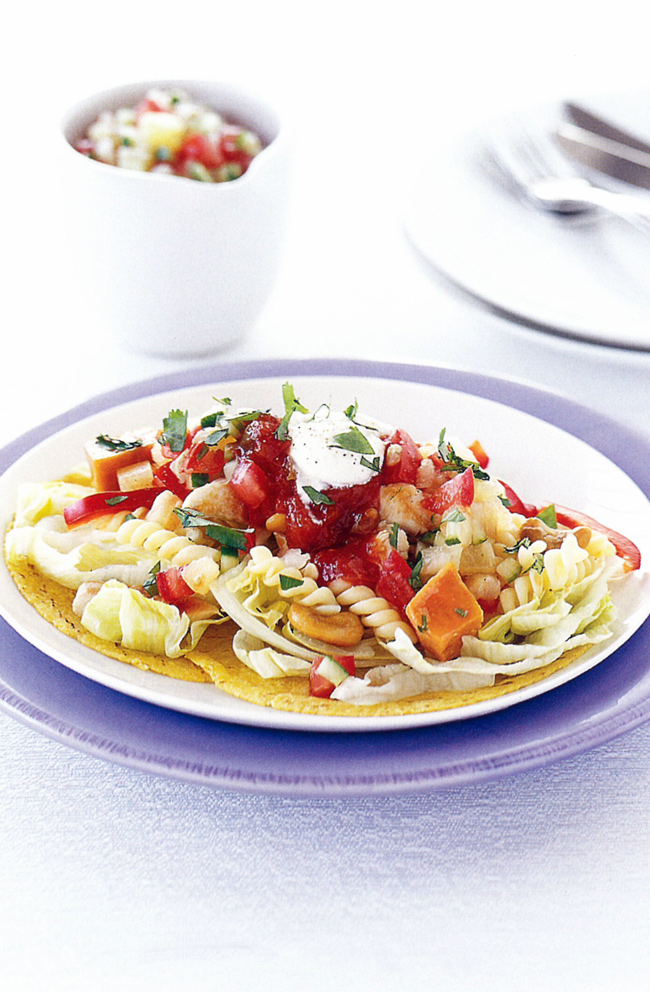 Australian Institute of Sport - From the "Survival Around the World" cookbook
05 Nov 2018
, Pasta, survival-around-the-world
Pasta
Return to top