Chicken, corn & chive risotto
Preparation time

10 minutes

Cooking time

40 minutes

Serves

4-6

Freezable

yes
Ingredients
Olive or canola oil spray
1 leek, thinly sliced
400 g chicken breast fillet, cut into thin slices
2 cups arborio rice
1 cup fresh or frozen corn kernels
5 cups MAGGI All Natural Chicken or Vegetable Liquid Stock
1 cup CARNATION Light and Creamy Evaporated Milk
2 teaspoons grated lemon rind
300 g broccoli florets
3 tablespoons snipped fresh chives
pepper and salt, for seasoning
Method
Spray a large pan with oil and heat.
Add leek and cook over medium heat for 2-3 minutes or until soft, adding a little water if it starts to stick to the pan
Add chicken and cook, stirring until it starts to brown.
Stir through rice and corn and cook for 1 minute.
Add the stock, evaporated milk and lemon rind and simmer, uncovered, for 20-25 minutes or until the rice is tender and the liquid has been absorbed, stirring occasionally.
Stir in broccoli and chives and season with pepper and salt to taste.
Cook, covered, for 5 minutes or until the broccoli is tender but still crisp.
Garnish with lemon zest, if desired.
HINT: Leftover risotto can be shaped into patties and cooked in a lightly oiled pan until crisp and golden and heated through
Nutrition
| ANALYSIS per serve | 4 | 6 |
| --- | --- | --- |
| Energy kJ (Cal) | 2699 (645) | 1800 (430) |
| Carbohydrate (g) | 99 | 66 |
| Protein (g) | 42 | 28 |
| Fat (g) | 9 | 6 |
| Vitamin C, Zinc, Calcium | | |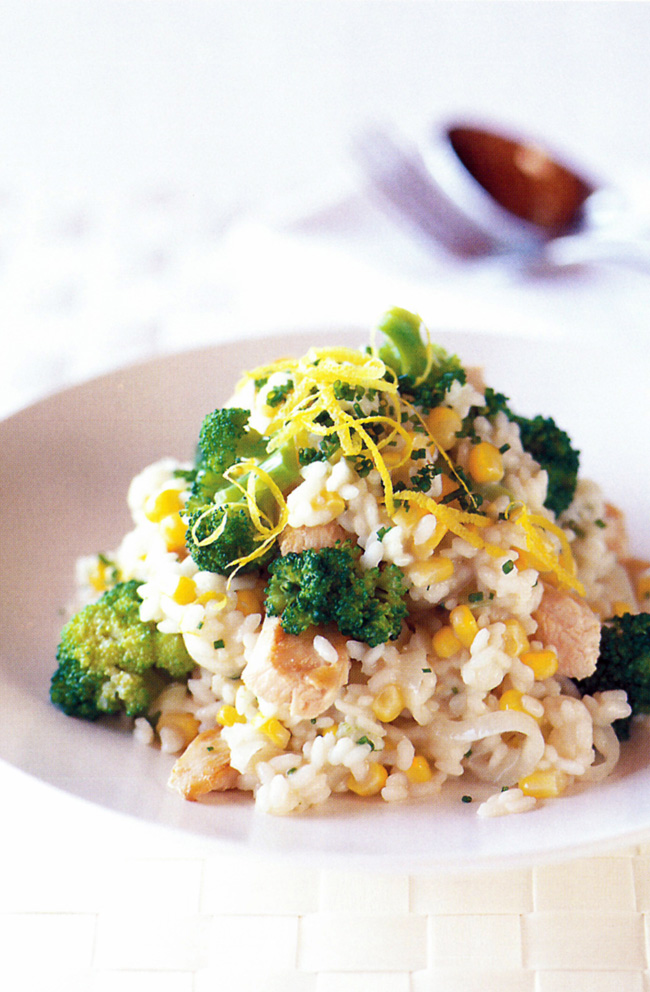 Australian Institute of Sport - From the "Survival from the Fittest" cookbook
05 Nov 2018
HINT: Leftover risotto can be shaped into patties and cooked in a lightly oiled pan until crisp and golden and heated through
yes, Rice, survival-from-the-fittest
Rice
Return to top