Carrot pecan cake
Preparation time

10 minutes

Cooking time

60 minutes + 5 minutes standing time

Serves

16
Ingredients
1½ cups self-raising flour
1 cup wholemeal self-raising flour
1 tsp bicarbonate of soda
2 tsp mixed spice
1 cup brown sugar
½ cup pecan nuts, chopped
2 eggs
3 tbsp olive oil
½ cup skim milk
250g jar apple sauce
3 small carrots, grated
Cream cheese frosting (optional)
1¼ cups light spreadable cream cheese
¼ cup icing sugar
1 tsp each lemon zest and juice
Method
Preheat oven to 180°C.
Lightly grease a 23cm round cake tin, and line the base with baking paper.
Sift flours, bicarbonate of soda and spice into a large bowl. Add husks from sifted flour, and stir in sugar and nuts. Make a well in the centre.
In another bowl, whisk eggs, oil, milk and apple sauce using a fork, then add to flour mixture. Stir gently until just combined, then stir in carrot.
Pour into prepared pan, and bake for about 60 minutes or until a skewer or knife inserted into the centre of the cake comes out clean.
Leave in the tin for 5 minutes before turning out on a wire rack to cool. If frosting, wait until the cake is completely cool.
To make frosting, put cream cheese in a bowl and sift icing sugar over it. Add lemon zest and juice and stir until smooth.
Nutrition
| ANALYSIS per serve | 16 |
| --- | --- |
| Energy kJ (Cal) | 1028 |
| Carbohydrate (g) | 30 |
| Protein (g) | 6 |
| Fat (g) | 11 |
| Saturated fat (g) | 3 |
| Fibre (g) | 2 |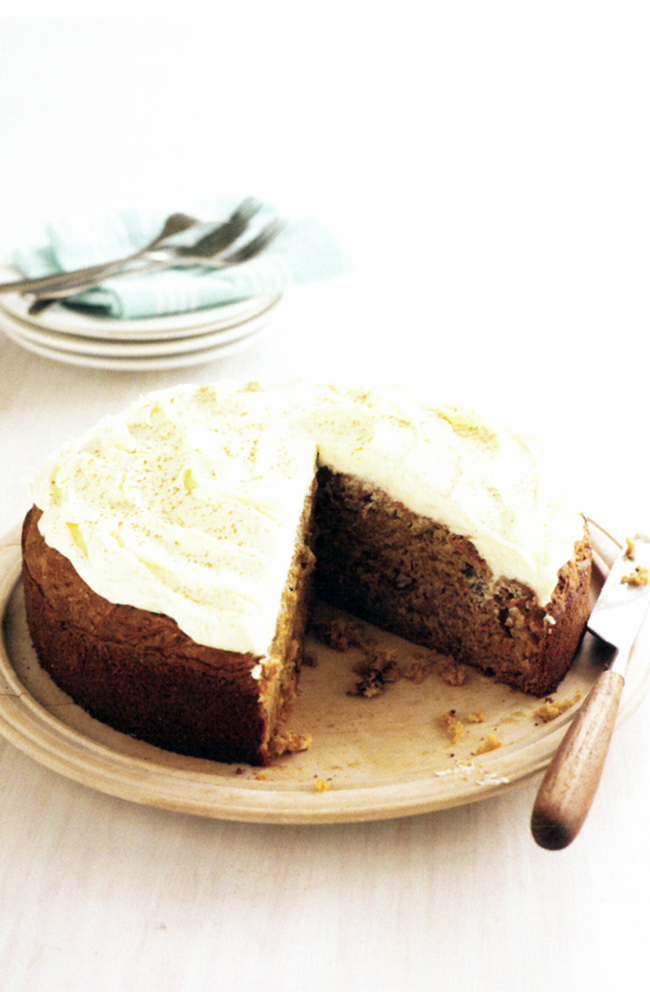 Australian Institute of Sport - From the "Survival for the Active Family" cookbook
13 Mar 2020
no, Treats, survival-for-the-active-family
Treats
Return to top