Carrot cake
Preparation time

20 minutes

Cooking time

70 minutes

Serves

12

Freezable

yes
Ingredients
1½ cups self-raising flour
1 cup wholemeal self-raising flour
1 teaspoon bicarbonate of soda
2 teaspoons mixed spice
1 cup brown sugar
2 eggs
2 tablespoons canola oil
½ cup skim milk
¾ cup prepared apple sauce
3 medium carrots (about 350 g), grated
Cream cheese frosting (optional):
½ cup light spreadable cream cheese
¼ cup icing sugar
1 teaspoon finely grated lemon rind
Method
Preheat oven to 180°C (350°F).
Lightly grease a 20-cm round cake pan, and line the base with baking paper.
Sift flours, bicarbonate of soda and spice into a large bowl (tip in husks from flour, too), and stir in sugar.
Make a well in the centre.
In another bowl, whisk eggs, oil, milk and apple sauce using a fork, then add to flour mixture.
Stir gently until just combined, then stir in carrot.
Pour into prepared pan, and bake for about 70 minutes or until a skewer or knife inserted into the centre of the cake comes out clean.
Leave in the pan for 5 minutes, before turning out on a wire rack to cool.
If frosting, wait until the cake is completely cool.
To make frosting, put cream cheese in a bowl and sift icing sugar over it.
Add lemon juice and stir until smooth.
HINT:This cake keeps for up to 4 days in an airtight container. If frosted, keep in the fridge. Alternatively, cut unfrosted cake into portions, wrap tightly in layer s of plastic wrap and freeze for up to 2 months. One piece will take about 2 hours to thaw at room temperature
Nutrition
| ANALYSIS per serve | 12 |
| --- | --- |
| Energy kJ (Cal) | 1009 (241) |
| Carbohydrate (g) | 41 |
| Protein (g) | 6 |
| Fat (g) | 6 |
| Fibre | |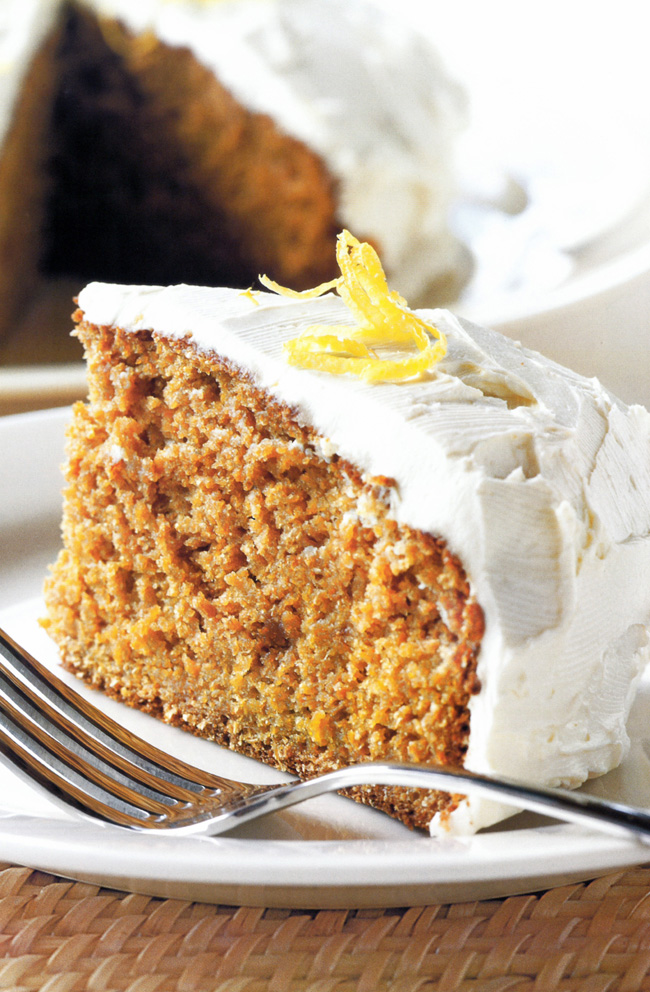 Australian Institute of Sport - From the "Survival from the Fittest" cookbook
05 Nov 2018
HINT:This cake keeps for up to 4 days in an airtight container. If frosted, keep in the fridge. Alternatively, cut unfrosted cake into portions, wrap tightly in layer s of plastic wrap and freeze for up to 2 months. One piece will take about 2 hours to thaw at room temperature
yes, Treats, survival-from-the-fittest
Treats
Return to top