Ingredients
1-1 1/2 cups couscous
1/2 cup red wine vinegar
2 tsp minced garlic
2 tbs olive oil
500g calamari tubes, cleaned and cut into rings
1 cup chopped celery
1 small cucumber, chopped
1 each small red, green and yellow capsicum, deseeded and cut into long, thin strips
3 green shallots, chopped
2 tbs chopped fresh flat-leaf parsley
1 finely chopped fresh jalapeño chilli
Method
Cover couscous with 3 cups boiling water and allow to stand.
Mix vinegar, garlic and oil in a small bowl.
Bring 1 cup water to a low boil in a frypan.
Stir in squid and cook for 2 minutes or until opaque and tender.
Drain and cool.
Mix celery, cucumber, capsicums, green shallots, parsley and chilli in a large bowl.
Gently toss with squid and dressing.
Refrigerate until serving.
Fluff couscous with a fork and serve with squid.
Athletes with high fuel needs (e.g. endurance athletes, athletes who are growing, athletes aiming to increase muscle mass) require extra carbohydrate-based ingredients and a larger serve size
Athletes with low fuel needs (e.g. skill-based athletes, athletes trying to reduce body fat) need to opt for a smaller serve size
Nutrition
ANALYSIS

High Fuel




4

Low Fuel




6

Energy (kJ)

2690

1406

Protein (g)

37

22

Fat (g)

12

8

Carbohydrate (g)

93

43

Iron, Vitamin C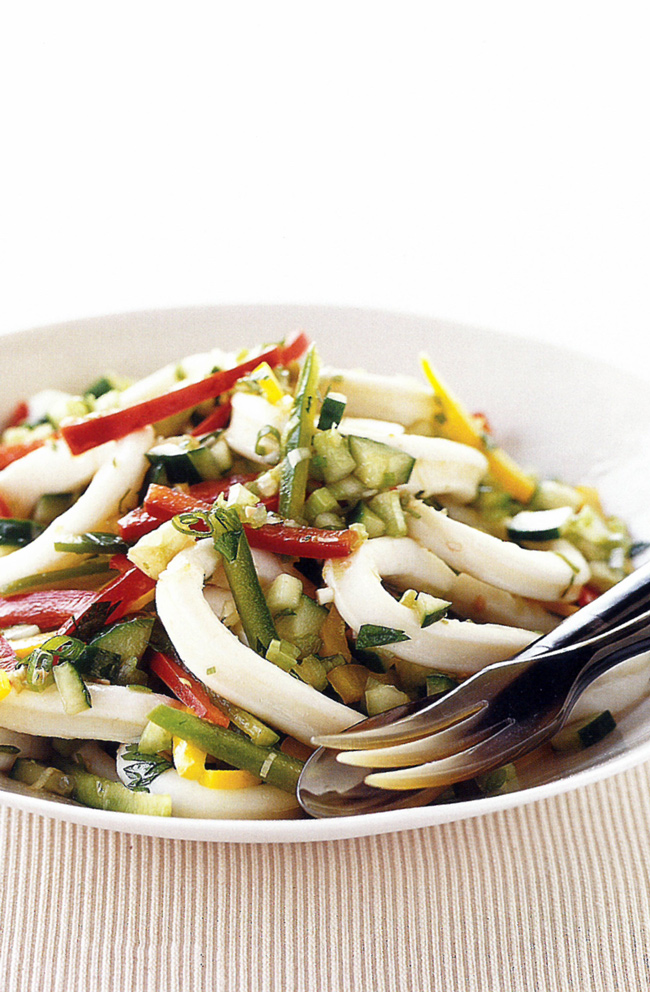 Australian Institute of Sport - From the "Survival Around the World" cookbook
05 Nov 2018
, Soups and Salads, survival-around-the-world
Soups and Salads
Return to top