Buttermilk pancakes with maple fruit salad
Preparation time

20 minutes

Cooking time

20 minutes

Serves

4-6
Ingredients
2

bananas sliced




1

tablespoon lemon juice




250 g

strawberries, halved




2

kiwi fruit, peeled, halved and sliced




185 ml (¾ cup)

maple syrup




4 tablespoons

low-fat yoghurt, to serve (optional)
PANCAKES
1½ cups

self-raising flour




1 tablespoon

caster (superfine) sugar




410 ml (1 2/3 cup)

buttermilk




1

egg, lightly beaten




1 teaspoon

vanilla essence




light spray of canola or olive oil
Method
Toss bananas with lemon juice as soon as they are cut.
Add strawberries, kiwi fruit and maple syrup, and toss to gently combine.
Set aside.
To make pancakes, sift flour into a mixing bowl, stir in sugar and make a well in the centre.
Whisk buttermilk, egg and vanilla together with a fork and add to the dry ingredients.
Stir together until just combined (use a wire whisk or a fork)- the mixture will be slightly lumpy.
Don't over beat the mixture or the pancakes will be tough.
Spray a nonstick frying pan with oil and place over medium heat.
Put 1/3 cup batter into the pan, and cook for about 1½ minutes, until bubbles appear on the surface.
Turn over and cook a further 1 minute or until lightly golden underneath.
Serve the pancakes topped with fruit salad, and a dollop of yoghurt if desired.
HINT: If you want everyone to eat at once, keep the cooked pancakes warm by stacking them on a plate in an oven on very low heat while you continue cooking
Nutrition
| ANALYSIS per serve | 4 | 6 |
| --- | --- | --- |
| Energy kJ (Cal) | | 1683 (402) |
| Carbohydrate (g) | 130 | |
| Protein (g) | | 10 |
| Fat (g) | | 2 |
| Calcium, Vitamin C | | |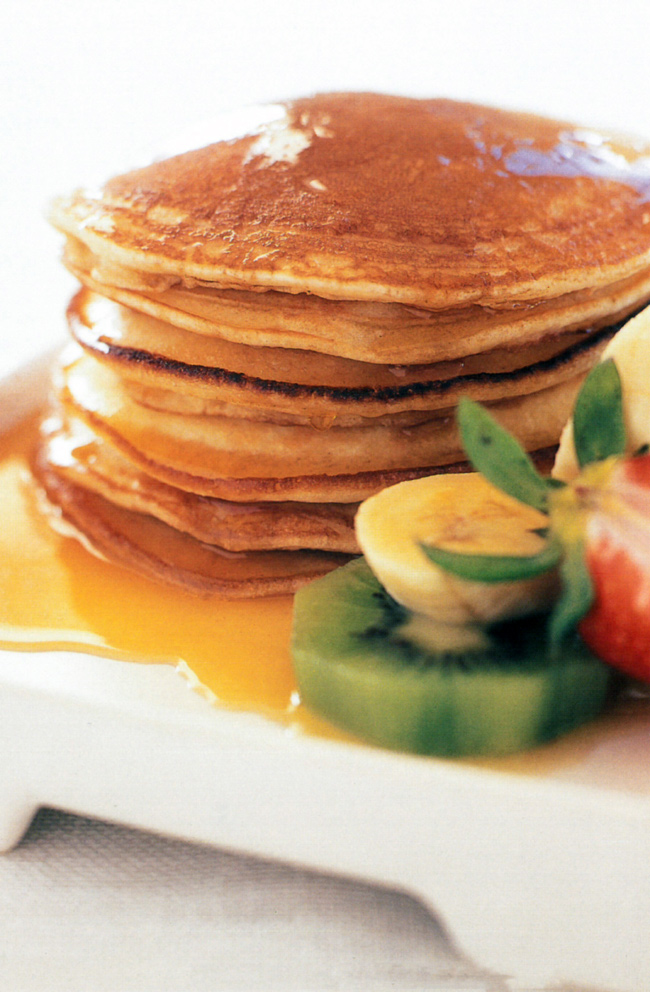 Australian Institute of Sport - From the "Survival for the Fittest" cookbook
05 Nov 2018
HINT: If you want everyone to eat at once, keep the cooked pancakes warm by stacking them on a plate in an oven on very low heat while you continue cooking
no, Treats, survival-for-the-fittest
Treats
Return to top