Berry mousse
Preparation time

20 minutes

Cooking time

Nil

Serves

4
Ingredients
300 g

fresh or frozen raspberries, thawed




400 g

low-fat strawberry yogurt




¼ cup

icing sugar




2 tablespoons

hot water




3 tablespoons

gelatine




2

egg whites
Method
Crush raspberries lightly with a fork and combine in a mixing bowl with yogurt and sifted icing sugar.
Put the water in a small bowl and sprinkle gelatine over it.
Stand the bowl in another bowl of very hot water, and let the gelatine soften for a few minutes then whisk with a fork to dissolve.
Using electric beaters, beat egg whites until soft peaks form.
Stir gelatine into yogurt mixture, then add egg whites and fold gently together until well combined, but take care not to lose the volume from the beaten egg whites.
Spoon into individual serving dishes, slightly larger than 1 cup capacity each, and refrigerate for about 4 hours or until set.
HINT: You may also use strawberries or blueberries in this recipe. Make sure the gelatine is well dissolved in the water before adding to the rest of the ingredients or the mousse could become lumpy and/or not set properly
Nutrition
| ANALYSIS per serve | 4 |
| --- | --- |
| Energy kJ (Cal) | 618 (147) |
| Carbohydrate (g) | 25 |
| Protein (g) | 10 |
| Fat (g) | 0.5 |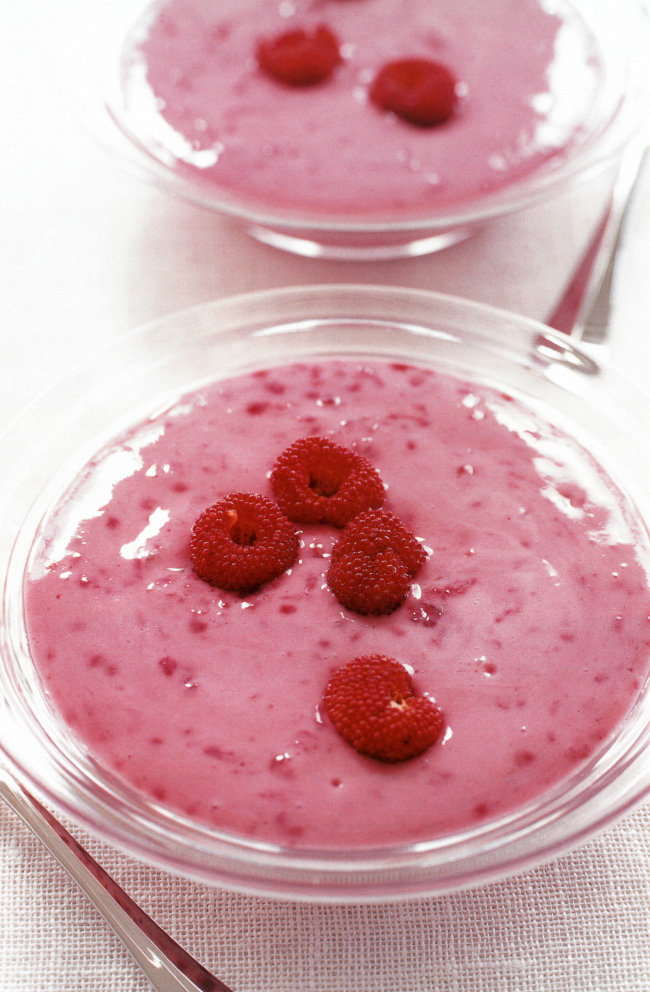 Australian Institute of Sport - From the "Survival for the Fittest" cookbook
05 Nov 2018
HINT: You may also use strawberries or blueberries in this recipe. Make sure the gelatine is well dissolved in the water before adding to the rest of the ingredients or the mousse could become lumpy and/or not set properly
no, Treats, survival-for-the-fittest
Treats
Return to top