Beef with cashews
Preparation time

15 minutes

Cooking time

30 minutes

Serves

6
Ingredients
oil for cooking
500g lean beef, cut into thin strips
1 small onion, cut into thin wedges
1 tsp minced ginger
2 garlic cloves, crushed
1 red capsicum, cut into thin strips
250g snow peas, halved
115g fresh baby corn, cut in half lengthways
1 small head broccoli, cut into florets
1/3 cup oyster sauce
2 tbsp plum sauce
1 cup roasted cashew nuts
rice, cooked, to serve or 2 packets MAGGI 2 Minute Noodles, cooked to packet instructions minus seasoning
Method
Heat oil in a medium frying pan or wok over high heat. Stir-fry the meat in batches for 1–2 minutes or until well browned and tender. Remove from the pan and set aside.
Reheat wok, add onion, ginger and garlic and stir-fry for 1 minutes or until softened.
Add remaining vegetables and stir-fry for about 3 minutes or until tender but still crisp. Add sauces and stir through.
Return beef to the pan and stir for 1 minute or until heated.
Mix in the nuts and serve immediately over the rice or MAGGI 2 Minute Noodles.
Nutrition
| ANALYSIS per serve | 6 |
| --- | --- |
| Energy kJ (Cal) | 2171 |
| Carbohydrate (g) | 69 |
| Protein (g) | 28 |
| Fat (g) | 13 |
| Saturated fat (g) | 3 |
| Fibre (g) | 4 |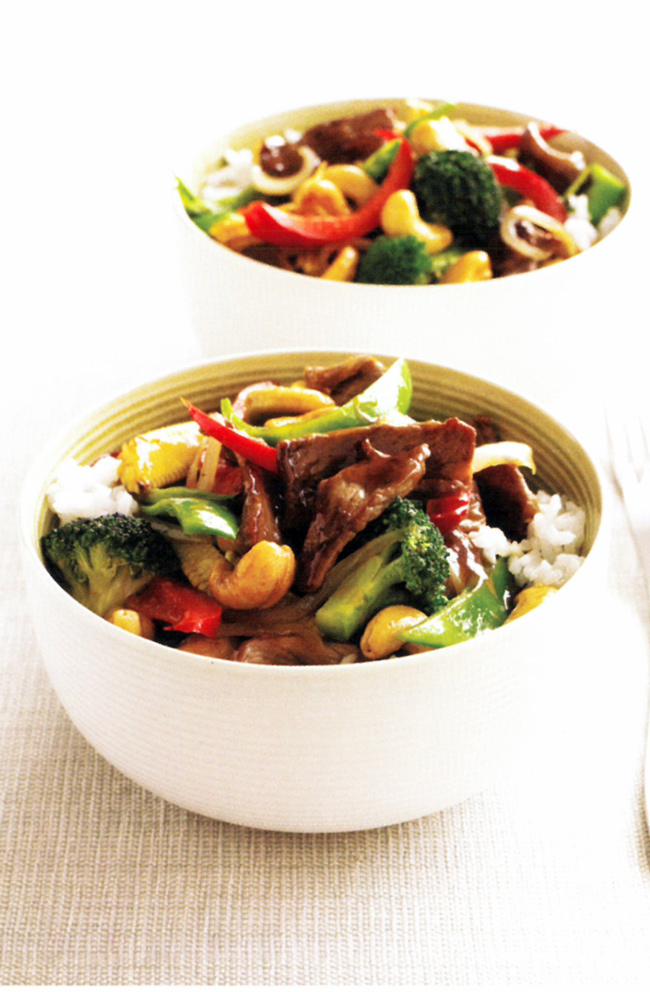 Australian Institute of Sport - From the "Survival for the Active Family" cookbook
05 Nov 2018
, Rice, survival-for-the-active-family
Rice
Return to top