Beef Stroganoff
Preparation time

15 minutes

Cooking time

18 minutes

Serves

6
Ingredients
500g fettuccine
400g rump steak
3 rashers lean bacon, chopped
1 onion, chopped
1 small carrot, peeled and finely sliced
1 stick celery, finely sliced
2 garlic cloves, crushed
200g button mushrooms, halved
1 tbsp plain flour
375ml can CARNATION Light & Creamy Evaporated Milk
2 tsp French mustard
1 tsp soy sauce
¼ cup tomato paste
freshly ground black pepper, to taste
fresh flat leaf parsley leaves, to garnish
green salad, to serve
Method
Cook pasta according to packet directions.
Meanwhile, heat a medium non-stick frying pan over medium to high heat. Cook steak for 3 minutes each side or until cooked to your liking. Remove from heat, cover wit foil and allow to rest.
Reduce heat to medium, and cook bacon and onion for 3 minutes or until lightly golden. Add the carrot, celery, garlic and mushrooms and cook for a further 5 minutes or until vegetables are tender.
Add flour and cook, stirring, for 1 minute.
Gradually add CARNATION Light & Creamy Evaporated Milk, mustard, soy sauce and tomato paste.
Bring to the boil. Reduce heat and simmer, stirring occasionally for 4 minutes or until thickened.
Slice steak into strips, add to pan and heat through.
To serve, ladle beef mixture over pasta, sprinkle with pepper and garnish with parsley. Serve with green salad.
Nutrition
| ANALYSIS per serve | 6 |
| --- | --- |
| Energy kJ (Cal) | 2091 |
| Carbohydrate (g) | 69 |
| Protein (g) | 35 |
| Fat (g) | 8 |
| Saturated fat (g) | 3 |
| Fibre (g) | 5 |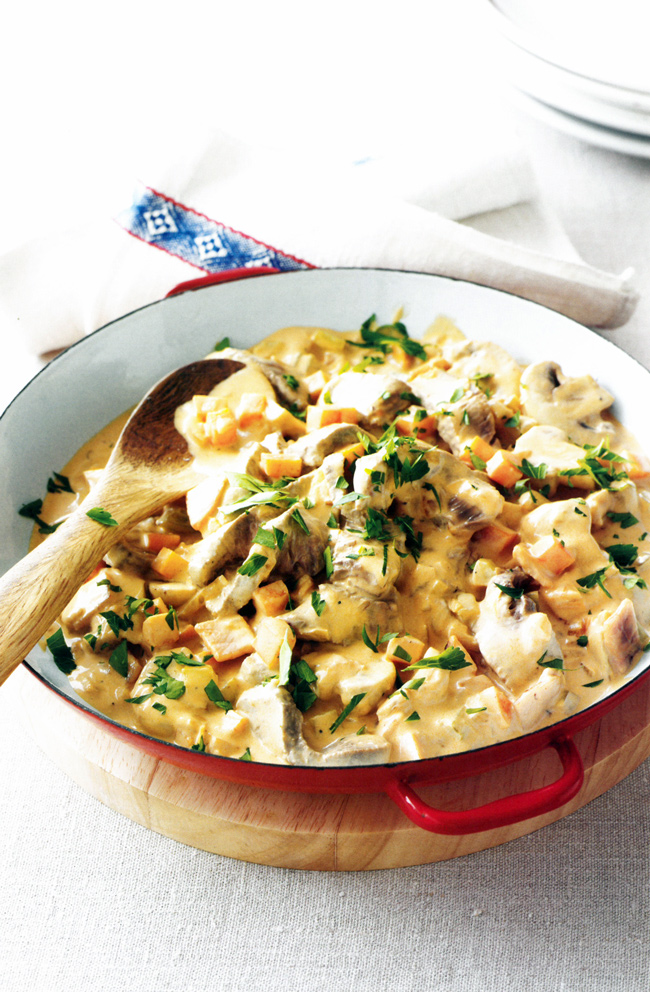 Australian Institute of Sport - From the "Survival for the Active Family" cookbook
05 Nov 2018
, Pasta, survival-for-the-active-family
Pasta
Return to top