Beef fajitas
Preparation time

15 minutes

Cooking time

15 minutes

Serves

4
Ingredients
oil for cooking
1 red onion, sliced
1 garlic clove, crushed
500g beef, cut into strips
1 tsp ground cumin
1 tsp ground coriander
3 tbsp barbeque sauce
2 tbsp MAGGI Hot Chilli Sauce
2 tbsp tomato paste
400g can red kidney beans, rinsed and drained
310g can corn kernels, rinsed and drained
2 tbsp water
12 flour tortillas
4 large lettuce leaves, shredded
4 tomatoes, diced
1 Lebanese cucumber, diced
taco sauce, to serve
Method
Heat oil in a large non-stick frying pan over medium to high heat. Add onion and garlic and cook for 2–3 minutes or until softened.
Add beef and cook for 5 minutes or until browned. Add cumin and coriander and cook for a further minute.
Add sauces, tomato paste, kidney beans, corn and water and cook for a further 5 minutes or until heated through.
Heat tortillas in microwave on HIGH for 30–60 seconds or until warm and flexible.
To assemble fajitas, top a tortilla with meat mixture, salad ingredients and taco sauce and roll up.
Nutrition
| ANALYSIS per serve | 4 |
| --- | --- |
| Energy kJ (Cal) | 2423 |
| Carbohydrate (g) | 67 |
| Protein (g) | 43 |
| Fat (g) | 12 |
| Saturated fat (g) | 3 |
| Fibre (g) | 15 |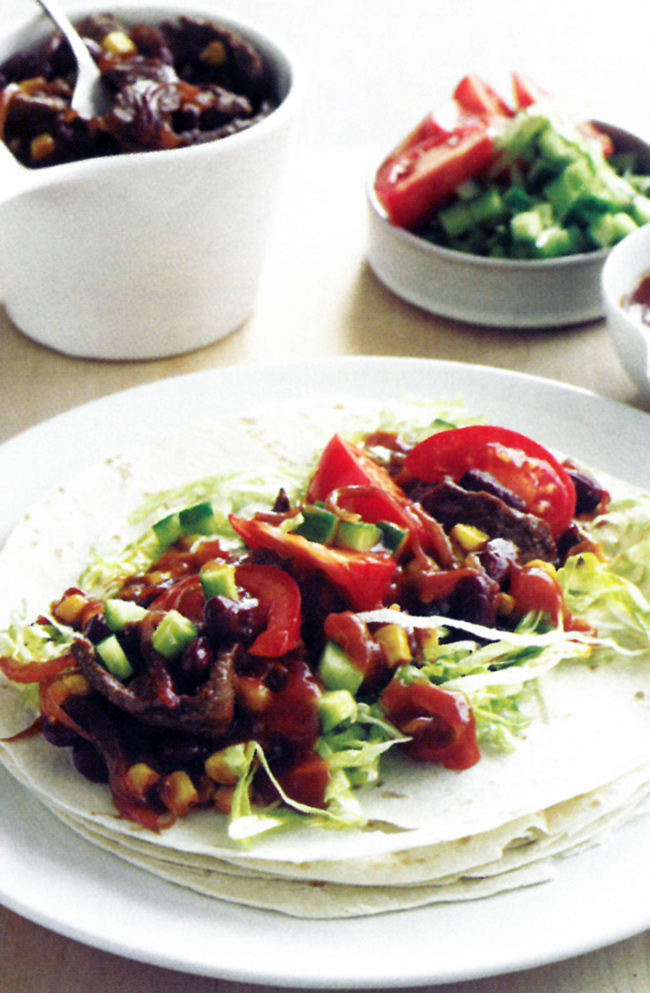 Australian Institute of Sport - From the "Survival for the Active Family" cookbook
05 Nov 2018
, Spice, survival-for-the-active-family
Spice
Return to top