Beef burgers
Preparation time

20 minutes

Cooking time

16 minutes

Makes

8
Ingredients
800g lean beef mince
1 tsp wholegrain mustard
2 tsp curry powder
1 tbsp tomato paste
1 tbsp barbeque sauce
1 tbsp Worcestershire sauce
1 small onion, finely diced
1 red capsicum, diced
1 carrot, grated
3 gherkins, diced
1 cup UNCLE TOBYS Quick oats
1 egg, lightly beaten
2 tbsp parsley, chopped
pepper, to taste
oil for cooking
toasted hamburger buns and sauce, to serve
Coleslaw
150g white cabbage, finely shredded
150g red cabbage, finely shredded
1 small carrot, grated
2 sticks celery, finely chopped
1 small red capsicum, finely chopped
125g can corn kernels, rinsed and drained
½ cup low-fat coleslaw dressing or low-fat mayonnaise
2 tbsp chopped fresh chives
Method
Combine mince with mustard, curry powder, tomato paste and sauces. Add remaining ingredients and mix well.
Divide mixture into 8 equal portions and shape into patties. Refrigerate for 20 minutes.
To make coleslaw, combine all ingredients in a large bowl. Refrigerate until serving.
Preheat oven to 180°C. Heat oil in a medium non-stick frying pan over medium heat. Cook the patties for 2 minutes each side until golden. Transfer to a baking tray and place in the oven for a further 8 minutes or until cooked through.
Serve in buns with mustard, tomato sauce and coleslaw.
Nutrition
| ANALYSIS per serve | 8 |
| --- | --- |
| Energy kJ (Cal) | 1149 |
| Carbohydrate (g) | 19 |
| Protein (g) | 24 |
| Fat (g) | 10 |
| Saturated fat (g) | 3 |
| Fibre (g) | 4 |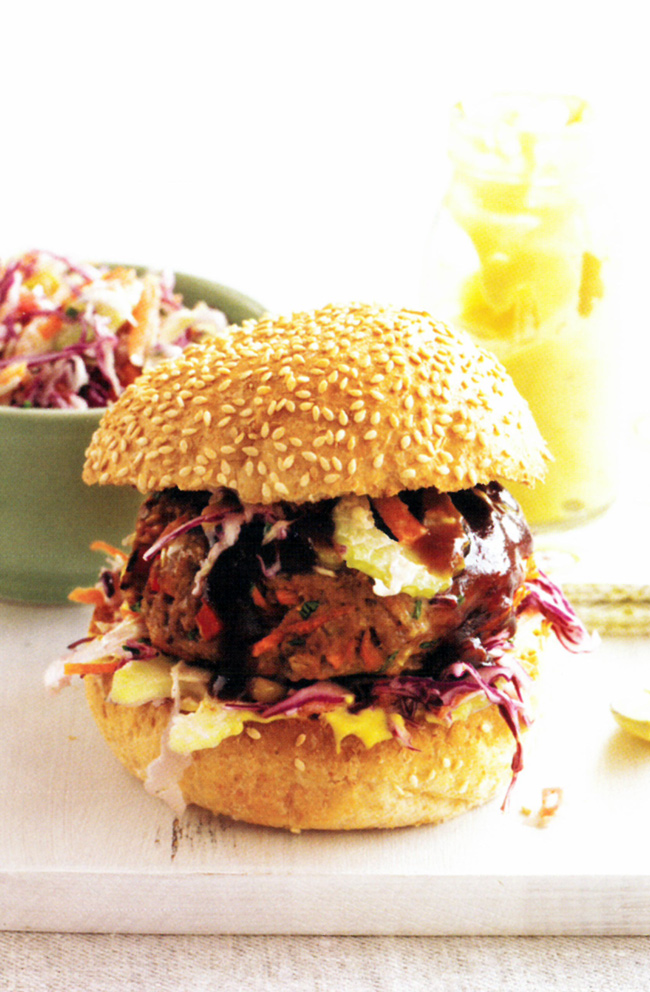 Australian Institute of Sport - From the "Survival for the Active Family" cookbook
05 Nov 2018
, Bakes and Grills, survival-for-the-active-family
Bakes and Grills
Return to top