Beef & vegetable satay sticks
Preparation time

15 minutes

Cooking time

10 minutes

Serves

4
Ingredients
500 g rump steak, cut into 2-cm cubes
6 spring onions, cut into 3-cm lengths
1 large red capsicum, cut into cubes
200 g button mushrooms, halved
2 large zucchini, cut into thick slices
2 tablespoons oil-free French dressing
1 teaspoon honey
Method
Soak bamboo skewers in water for 10 minutes to prevent them from burning under the grill.
Thread the steak, spring onion, capsicum, mushrooms and zucchini onto the skewers.
Place skewers on a foil-lined grill tray and baste with combined dressing and honey.
Cook under a preheated grill on high, or on a barbecue hot plate, basting and turning a couple of times during cooking until the beef is tender.
Serve skewers with a salad or wrapped in a piece of Lebanese bread with rocket.
Drizzle with your favourite sauce.
Serve with salad on the side, if desired.
HINT: Any lean meat can be used to make the satay. Vegetarians can use firm tofu diced into cubes
Nutrition
| ANALYSIS per serve | 4 |
| --- | --- |
| Energy kJ (Cal) | 898 (215) |
| Carbohydrate (g) | 7 |
| Protein (g) | 31 |
| Fat (g) | 6 |
| Fibre, Iron, Vitamin C, Zinc | |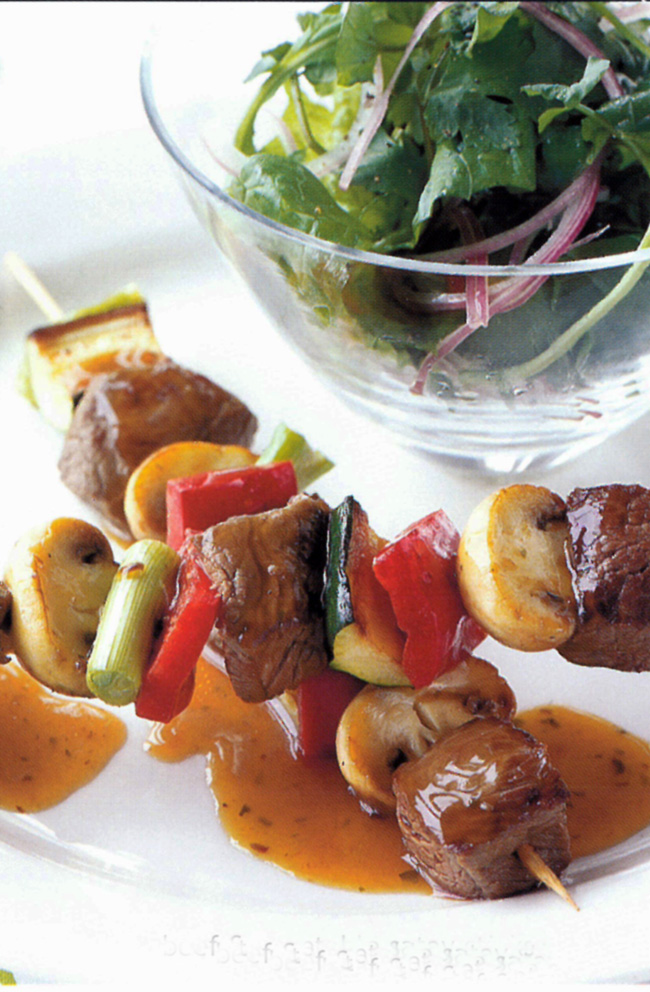 Australian Institute of Sport - From the "Survival from the Fittest" cookbook
05 Nov 2018
HINT: Any lean meat can be used to make the satay. Vegetarians can use firm tofu diced into cubes
, Bakes and Grills, survival-from-the-fittest
Bakes and Grills
Return to top