Beef & spinach lasagne
Preparation time

25 minutes

Cooking time

35 minutes + 5 minutes standing time

Serves

6
Ingredients
oil for cooking
1 medium onion, finely chopped
1 large clove garlic, minced
600g lean beef mince
100g mushrooms, chopped
1 red capsicum, chopped
500g jar tomato-based pasta sauce
400g can crushed tomatoes
250g packet frozen chopped spinach, thawed
1½ cups low-fat ricotta cheese
375g packet fresh lasagne sheets (approx 8 sheets)
½ cup grated reduced-fat tasty cheese
Method
Preheat oven to 180°C.
Heat oil in medium non-stick frying pan over medium heat. Ad onion and garlic and cook for 3–4 minutes or until soft. Increase the heat to high and add mince and cook over high heat for 5 minutes until brown, breaking up and lumps with a wooden spoon.
Add mushrooms and capsicum and stir through.
Stir in pasta sauce and tomato, allow to heat through.
Drain spinach and squeeze out excess liquid. Place in a bowl and mix with ricotta.
Trim pasta sheets to fit an 8-cup baking dish, and spread a very thin layer of meat sauce over the base. Arrange a layer of pasta over sauce.
Divide remaining sauce and spinach mixture into 3 portions. Start with a thin layer of sauce, then pasta sheets then spinach mixture, Continue layering, finishing with the spinach mixture. Top with cheese.
Bake for 35–40 minutes until heated through and pasta is cooked and the top is golden brown. Leave it to stand for 5 minutes before serving.
Nutrition
| ANALYSIS per serve | 6 |
| --- | --- |
| Energy kJ (Cal) | 1780 |
| Carbohydrate (g) | 31 |
| Protein (g) | 39 |
| Fat (g) | 15 |
| Saturated fat (g) | 7 |
| Fibre (g) | 7 |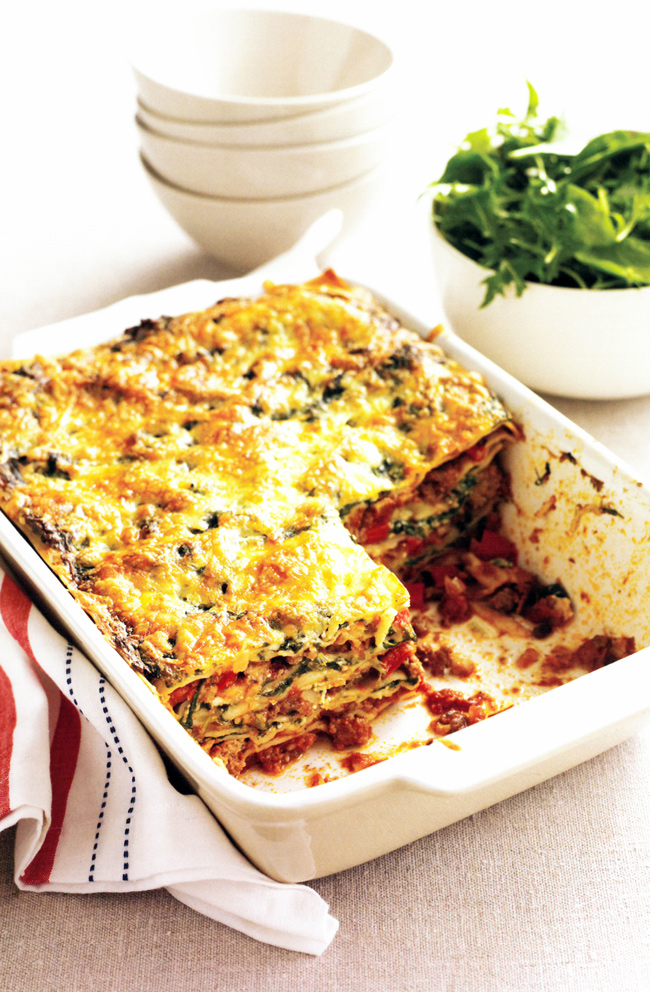 Australian Institute of Sport - From the "Survival for the Active Family" cookbook
05 Nov 2018
, Bakes and Grills,Pasta, survival-for-the-active-family
Bakes and Grills,Pasta
Return to top