Beef & noodle salad
Preparation time

10 minutes

Cooking time

8 minutes + 5 minutes standing time

Serves

4
Ingredients
oil for cooking
500g rump steak
¼ cup low-fat French dressing
1–2 tbsp MAGGI Sweet Chilli Sauce
450g thin hokkien noodles
1 green capsicum, sliced
1 red capsicum, sliced
150g snow peas, sliced
200g cherry tomatoes, halved
80g baby spinach
¼ cup mint leaves
Method
Heat oil in a medium non-stick frying pan over medium to high heat. Cook steak for 2–3 minutes on each side or until cooked to your liking. Remove from heat, cover with foil and set aside for 5 minutes before cutting into thin slices.
Combine dressing and MAGGI Sweet Chilli Sauce.
Place noodles in a large heatproof bowl and cover with boiling water.
Gently prise them apart with two forks until the strands separate. Drain well.
While noodles are still warm, toss with vegetables and sliced beef in a large bowl, pour over the dressing, add the mint leaves and toss gently. Serve immediately.
Nutrition
| ANALYSIS per serve | 4 |
| --- | --- |
| Energy kJ (Cal) | 2135 |
| Carbohydrate (g) | 70 |
| Protein (g) | 40 |
| Fat (g) | 7 |
| Saturated fat (g) | 3 |
| Fibre (g) | 5 |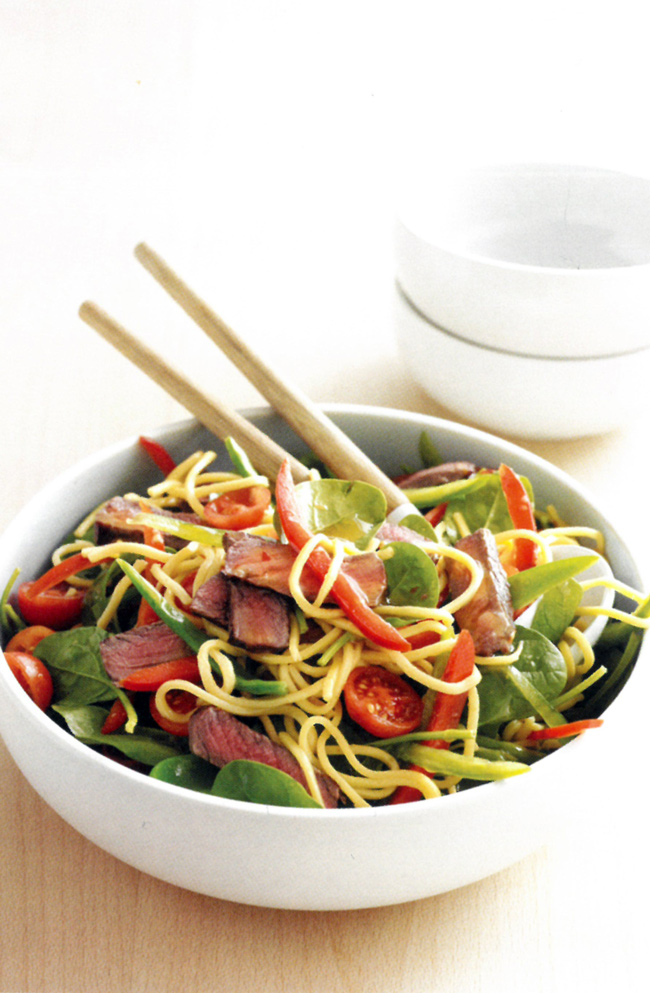 Australian Institute of Sport - From the "Survival for the Active Family" cookbook
05 Nov 2018
, Soups and Salads, survival-for-the-active-family
Soups and Salads
Return to top