Beef & capsicum kebabs
Preparation time

20 minutes + marinating

Cooking time

6 minutes

Serves

4
Ingredients
MARINADE
2 teaspoons minced garlic
2 tablespoons MAGGI Sweet Chilli Sauce
2 tablespoons soy sauce
BEEF
500 g rump steak, cut into cubes
1 small red capsicum
1 small green capsicum
16 cherry tomatoes
8 button mushrooms, halved
1 small red onion, cut into wedges
Method
Combine the marinade ingredients in a ceramic or glass bowl.
Add the beef and turn to coat thoroughly.
Cover and leave for 30 minutes or up to 24 hours.
Place the meat in the fridge if marinating for longer than 30 minutes or during very hot weather.
Cut the capsicum into small squares. Thread the beef on to the skewers, alternating with vegetables.
Preheat a grill or barbecue grill plate to moderately hot, and cook the skewers for 6 minutes, turning once halfway through.
Serve immediately.
HINT: A good carbohydrate partner for this meal is rice. Alternatively, remove the skewers and wrap each kebab in a roll or pita bread
Nutrition
| ANALYSIS per serve | 4 |
| --- | --- |
| Energy kJ (Cal) | 943 (225) |
| Carbohydrate (g) | 9 |
| Protein (g) | 37 |
| Fat (g) | 4 |
| Iron, Vitamin C, Zinc | |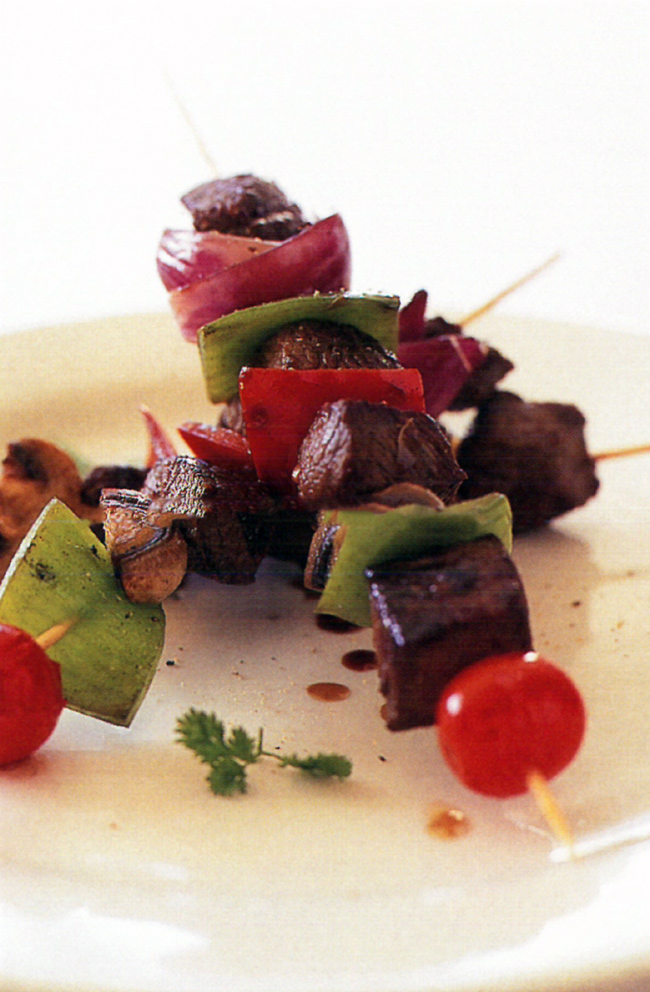 Australian Institute of Sport - From the "Survival for the Fittest" cookbook
05 Nov 2018
HINT: A good carbohydrate partner for this meal is rice. Alternatively, remove the skewers and wrap each kebab in a roll or pita bread
no, Bakes and Grills, survival-for-the-fittest
Bakes and Grills
Return to top