Bean & avocado potato
Preparation time

15 minutes

Cooking time

60-90 minutes

Serves

2-4
Ingredients
4 large evenly shaped potatoes, about 300 g each
290 g can red kidney beans
200 g jar taco sauce
½ avocado
Method
Clean the potatoes if necessary and pat the skin dry with paper towel.
Pierce the potatoes a few times with a small sharp knife and place directly on the shelf of a preheated hot (210°C or 415°F) oven and bake for at least 1 hour.
Leave in the oven for 1½ hours for really crisp skins.
Rinse and drain the red kidney beans.
Place in a small saucepan with the taco sauce.
Stir over medium heat until warmed through.
Cut cooked potatoes in half and scoop out flesh.
Put into a bowl and mash with avocado then return to the potato skins.
Spoon the bean mixture over the top, and serve immediately.
If desired, sprinkle with a small amount of finely grated low-fat tasty cheese.
Nutrition
| ANALYSIS per serve | 2 | 4 |
| --- | --- | --- |
| Energy kJ (Cal) | 3325 (794) | 1663 (397) |
| Carbohydrate (g) | 125 | 63 |
| Protein (g) | 29 | 15 |
| Fat (g) | 19 | 9 |
| Fibre, Vitamin C, Iron | | |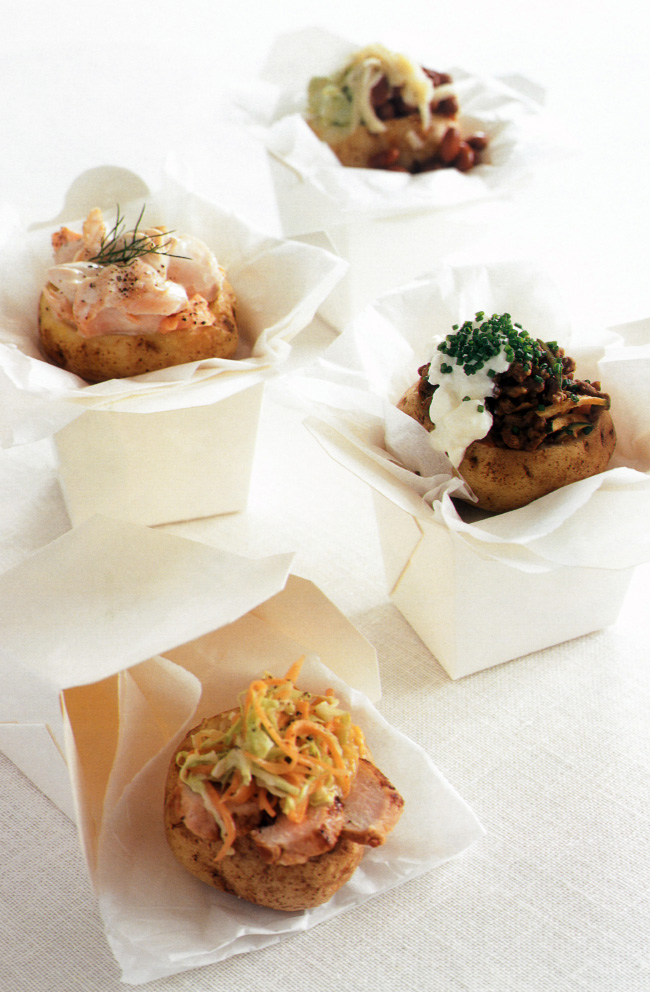 Australian Institute of Sport - From the "Survival for the Fittest" cookbook
05 Nov 2018
no, Bakes and Grills, survival-for-the-fittest
Bakes and Grills
Return to top