Banana cake
Preparation time

20 minutes

Cooking time

70 minutes

Serves

12
Ingredients
3 tablespoons margarine
½ cup caster (superfine) sugar
3 large ripe bananas, chopped
2 eggs
1 teaspoon vanilla essence
1 cup self-raising flour
1 cup wholemeal self-raising flour
185 mL (¾ cup buttermilk)
ICING (optional)
¾ cup icing sugar
1 tablespoon lemon juice
2-4 teaspoons boiling water
Method
Preheat the oven to moderate (180°C or 350°F).
Lightly grease a 20 cm round cake pan, and line the base with baking paper.
Using electric beaters, beat margarine, sugar and bananas until well combined and banana is almost smooth.
Add the eggs one at a time, beating well after each addition, then beat in the vanilla.
Sift flours into the bowl, and pour in milk.
Fold in quickly and lightly until just combined, but do not over beat or the cake will be tough.
Pour into prepared pan, and bake for about 70 minutes or until a skewer or knife inserted into the centre of the cake comes out clean.
Leave in the pan for 5 minutes before turning out onto a wire rack to cool.
If you are icing the cake, wait until it is completely cooled.
Sift icing sugar into a bowl and stir in juice and enough water to make a thin icing.
Spread over the cake and leave to set.
HINT: Buttermilk is used for low-fat baking. It is cultured (like yoghurt), and therefore quite acidic which makes the cake tender and moist
Nutrition
| ANALYSIS per serve | 12 |
| --- | --- |
| Energy kJ (Cal) | 967 (231) |
| Carbohydrate (g) | 41 |
| Protein (g) | 5 |
| Fat (g) | 5 |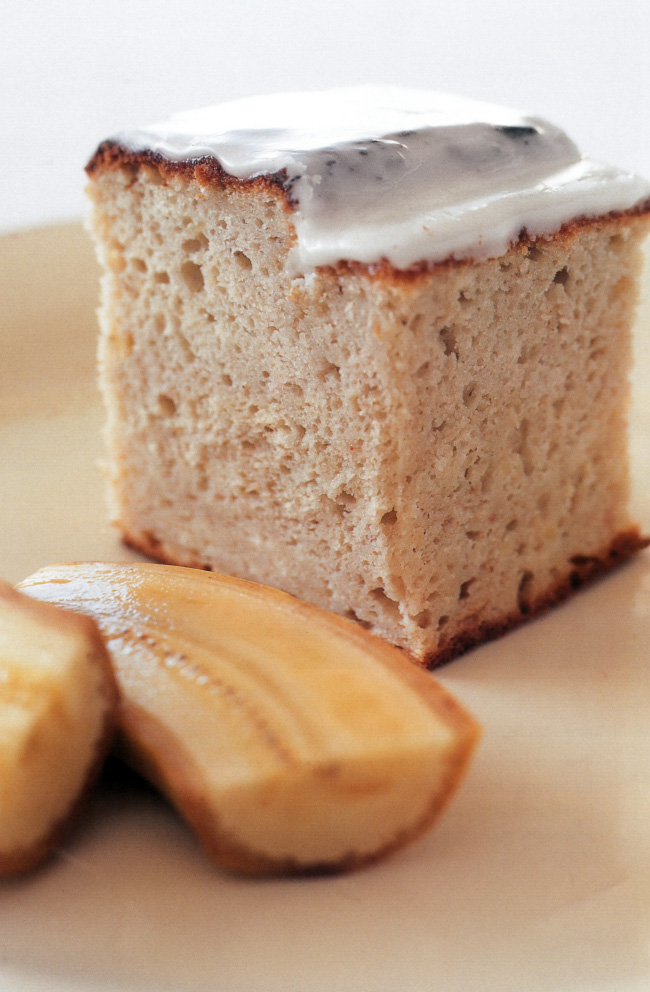 Australian Institute of Sport - From the "Survival for the Fittest" cookbook
05 Nov 2018
HINT: Buttermilk is used for low-fat baking. It is cultured (like yoghurt), and therefore quite acidic which makes the cake tender and moist
, Treats, survival-for-the-fittest
Treats
Return to top