Baked nectarines with anzac crumble
Ingredients
6 large nectarines, halved, stones removed
6 Anzac biscuits, crushed
2 tbs honey
1 tsp ground cinnamon
1 tsp vanilla essence
4 x 200g tubs NESTLÉ All Natural 99% Fat Free Vanilla Yogurt
Method
Preheat oven to 180°C (350°F).
Place nectarine halves, skin-side down, in an ovenproof dish.
Combine biscuits and honey; place a little in the hollow of each nectarine.
Add cinnamon and vanilla essence to 1 cup water and pour into base of dish.
Bake for 20 minutes or until nectarines are soft.
Remove from dish and serve with yogurt.
Athletes with high fuel needs (e.g. endurance athletes, athletes who are growing, athletes aiming to increase muscle mass) require extra carbohydrate-based ingredients and a larger serve size
Athletes with low fuel needs (e.g. skill-based athletes, athletes trying to reduce body fat) need to opt for a smaller serve size
Tip: Use apples if nectarines are not available
Nutrition
ANALYSIS

High Fuel




4

Low Fuel




6

Energy (kJ)

1470

980

Protein (g)

12

8

Fat (g)

7

4

Carbohydrate (g)

62

41

Calcium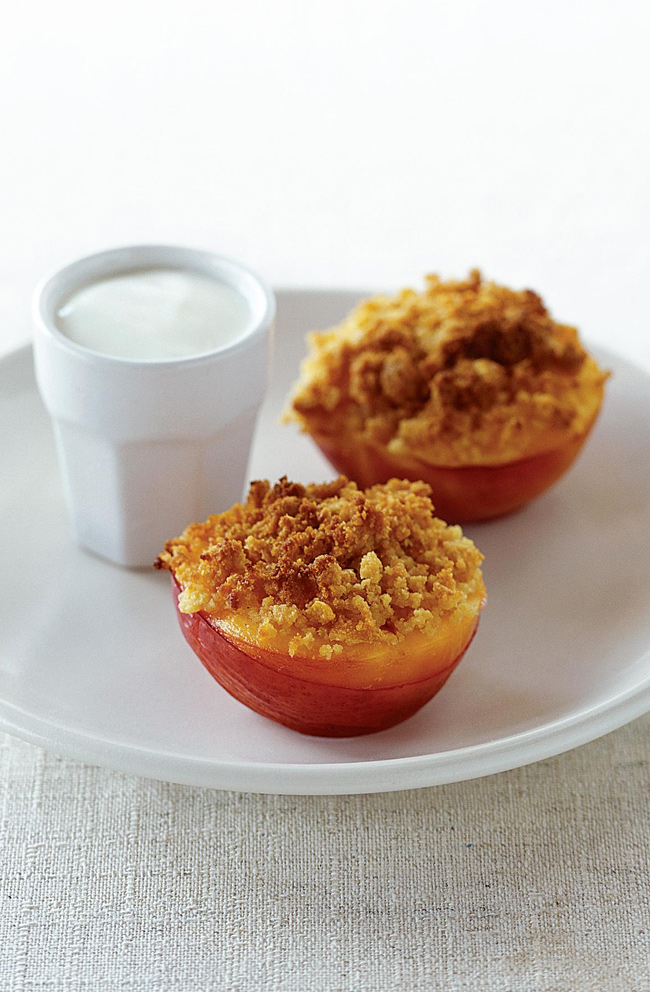 Australian Institute of Sport - From the "Survival Around the World" cookbook
05 Nov 2018
Tip: Use apples if nectarines are not available
, Treats, survival-around-the-world
Treats
Return to top