Baked beef risotto
Preparation time

20 minutes

Cooking time

40 minutes

Serves

4-6
Ingredients
oil for cooking
1 onion, finely chopped
2 cloves garlic, minced
1 tsp MAGGI Hot Chilli Sauce
100g button mushrooms, chopped
350g lean beef mince
1½ cups arborio rice
4 cups beef stock
150g green beans, trimmed and chopped
400g sweet potato, cut into 1cm cubes
1 tbsp finely grated parmesan cheese
3 tbsp coarsely chopped basil
freshly ground black pepper, to taste
Method
Preheat the oven to 180°C.
Heat oil in a medium non-stick frying pan over medium heat. Add onion, garlic, MAGGI Hot Chilli Sauce, mushrooms and mince and cook for about 5–8 minutes or until browned.
Add rice. Stir in the stock, beans and sweet potato and bring to boil. Transfer to a 6-cup-capacity baking dish.
Cover and bake for 20 minutes.
Remove cover, stir risotto well and return to the oven to cook, uncovered, for a further 10 minutes or until rice is tender and the stock has been absorbed
Stir through cheese and basil and season with pepper.
Nutrition
| ANALYSIS per serve | 4-6 |
| --- | --- |
| Energy kJ (Cal) | 2134 |
| Carbohydrate (g) | 79 |
| Protein (g) | 28 |
| Fat (g) | 8 |
| Saturated fat (g) | 3 |
| Fibre (g) | 5 |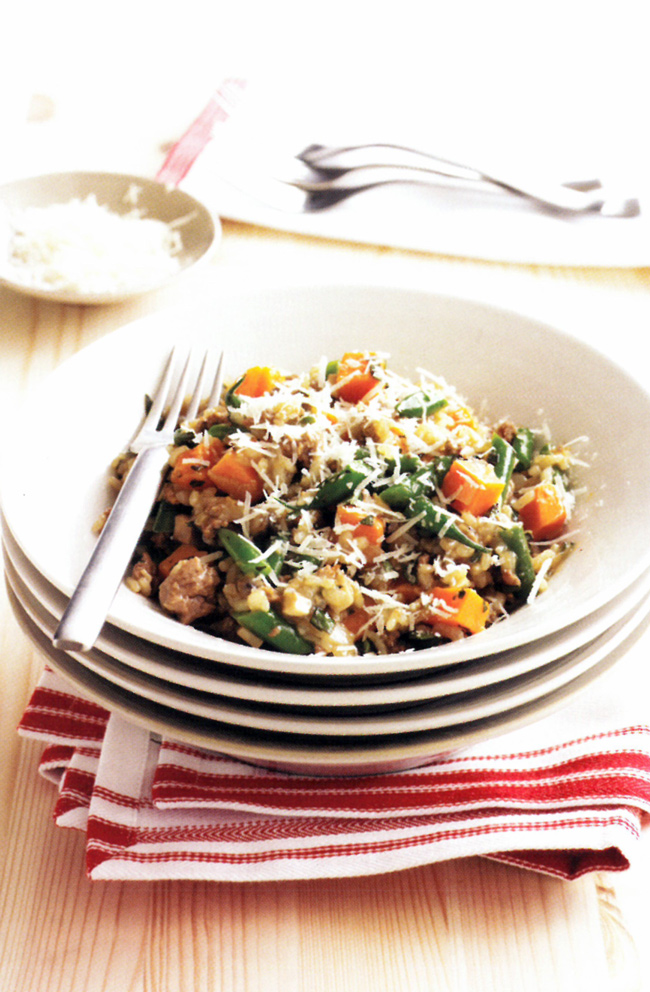 Australian Institute of Sport - From the "Survival for the Active Family" cookbook
05 Nov 2018
no, Rice, survival-for-the-active-family
Rice
Return to top