Baby octopus pizza
Preparation time

5 minutes

Cooking time

30 minutes

Serves

4
Ingredients
¾ cup pumpkin, cubed
olive or canola oil spray
500 g clean fresh baby octopus
1 tablespoon minced garlic
2 tablespoons chopped fresh chives
1 teaspoon minced chilli
1½ tablespoons balsamic vinegar
pinch of salt
salt and pepper, to taste
2 tablespoons tomato paste
1 large precooked pizza base
2 tablespoons chopped fresh parsley
Method
Preheat oven to 200°C (400°F).
Microwave pumpkin on HIGH for 2 minutes, until tender.
Spray a nonstick frying pan with oil and heat.
Stirfry octopus for 1-2 minutes over high heat until tender.
Combine pumpkin, octopus, garlic, chives, chilli, vinegar, salt and pepper in bowl.
Spread tomato paste on base and add topping.
Bake for 15-20 minutes until base is crisp and golden and topping heated through.
Sprinkle with parsley and serve with salad.
HINT: Prawns can be used instead of octopus
Nutrition
| ANALYSIS per serve | 4 |
| --- | --- |
| Energy kJ (Cal) | 2219 (530) |
| Carbohydrate (g) | 70 |
| Protein (g) | 44 |
| Fat (g) | 8 |
| Calcium | |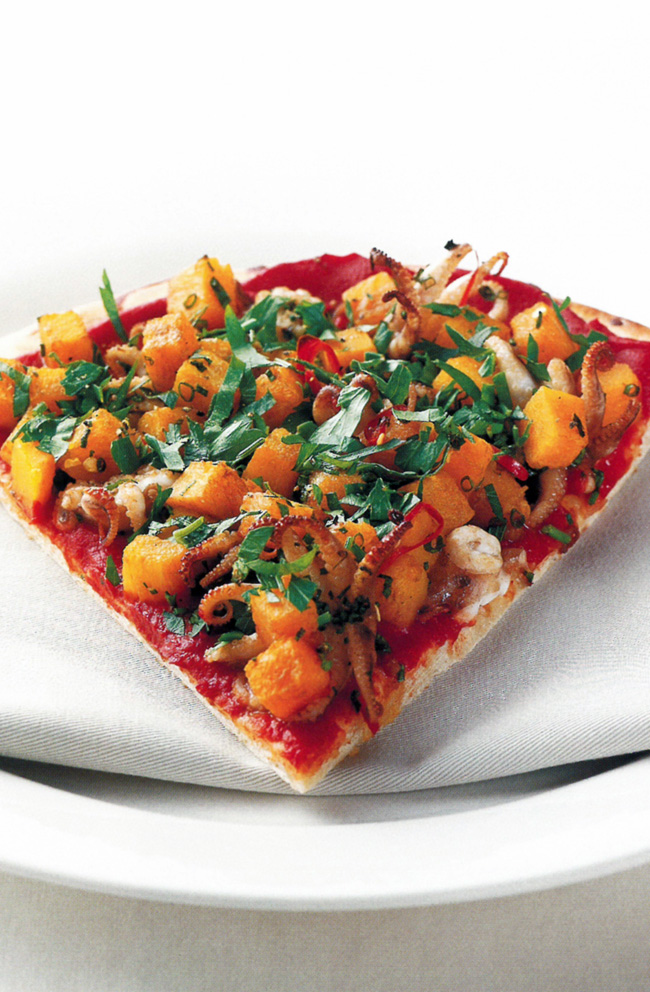 Australian Institute of Sport - From the "Survival from the Fittest" cookbook
05 Nov 2018
HINT: Prawns can be used instead of octopus
no, Bakes and Grills, survival-from-the-fittest
Bakes and Grills
Return to top