Aussie Pizza
Preparation time

8 minutes

Cooking time

20 minutes

Serves

4
Ingredients
4 individual pizza bases (or 1 large base)
1/3 cup barbecue sauce
1 garlic clove, crushed
½ small red onion, sliced
80g reduced-fat leg ham, chopped
4 rashers lean bacon
½ small red capsicum, sliced
80g mushrooms, quartered
4 eggs
½ cup grated reduced-fat mozzarella cheese
Method
Preheat oven to 220°C.
Place pizza bases on a baking tray lined with baking paper.
Combine sauce and garlic and spread over bases, leaving a 1cm border. Add toppings making a small space, 4 spaces if using 1 large base, and gently crack the egg into it.
Top with cheese and bake for 15–20 minutes until egg sets.
HINT: Some pizza bases are very thick and contribute a lot of kilojoules. If you need to watch your energy intake, choose thinner bases
Nutrition
| ANALYSIS per serve | 4 |
| --- | --- |
| Energy kJ (Cal) | 1837 |
| Carbohydrate (g) | 42 |
| Protein (g) | 31 |
| Fat (g) | 16 |
| Saturated fat (g) | 6 |
| Fibre (g) | 4 |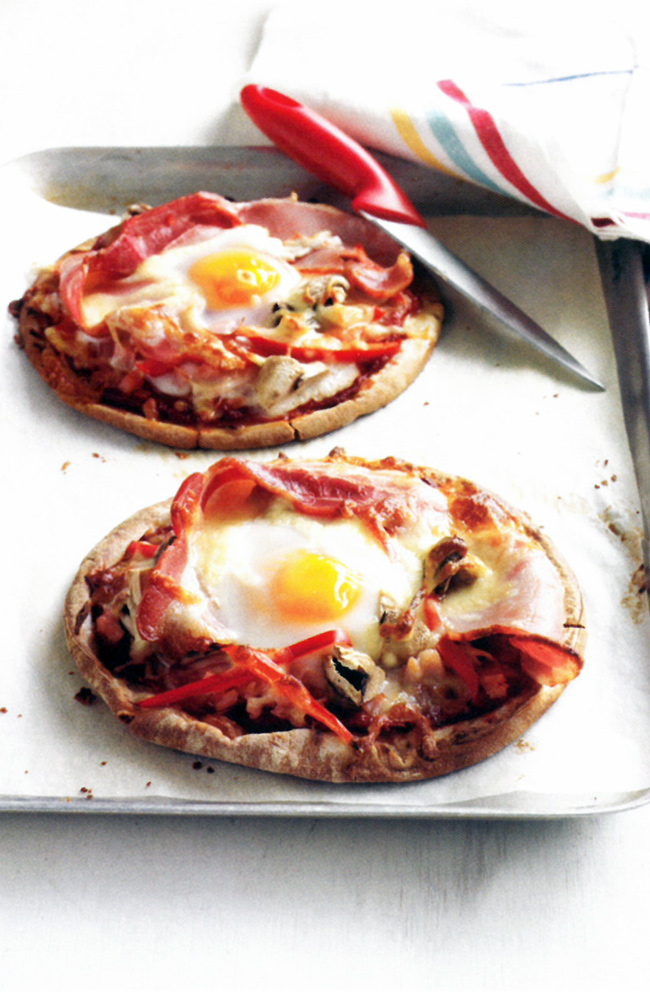 Australian Institute of Sport - From the "Survival for the Active Family" cookbook
05 Nov 2018
HINT: Some pizza bases are very thick and contribute a lot of kilojoules. If you need to watch your energy intake, choose thinner bases
, Bakes and Grills, survival-for-the-active-family
Bakes and Grills
Return to top