Asian pork salad in lettuce cups
Ingredients
1/2 cup rice
500g lean pork mince
1/2 cup MAGGI Real Chicken Stock
230g can water chestnuts, drained and chopped
3 green shallots, chopped
2 tbs chopped fresh coriander
2 tbs chopped fresh mint
1 carrot, peeled and grated
1 cucumber, diced
3 tbs MAGGI Fish Sauce
2 tbs lime juice
1 tbs brown sugar
100g bean sprouts
1 iceberg lettuce, leaves separated
4 large or 6 small bread rolls
Method
Cook rice according to packet instructions.
Cook pork and stock in a non-stick frypan over medium heat for 10 minutes or until pork is tender.
Remove from heat.
Add rice, water chestnuts, green shallots, coriander, mint, carrot and cucumber and mix to combine.
Whisk together fish sauce, lime juice and brown sugar and pour over pork mixture.
Refrigerate for 1 hour or until chilled.
Fold through bean sprouts and serve in lettuce leaves.
Serve with bread rolls.
Athletes with high fuel needs (e.g. endurance athletes, athletes who are growing, athletes aiming to increase muscle mass) require extra carbohydrate-based ingredients and a larger serve size
Athletes with low fuel needs (e.g. skill-based athletes, athletes trying to reduce body fat) need to opt for a smaller serve size
Nutrition
ANALYSIS

High Fuel

4

Low Fuel

6

Energy (kJ)

2358

1580

Protein (g)

38

25

Fat (g)

13

9

Carbohydrate (g)

70

46

Iron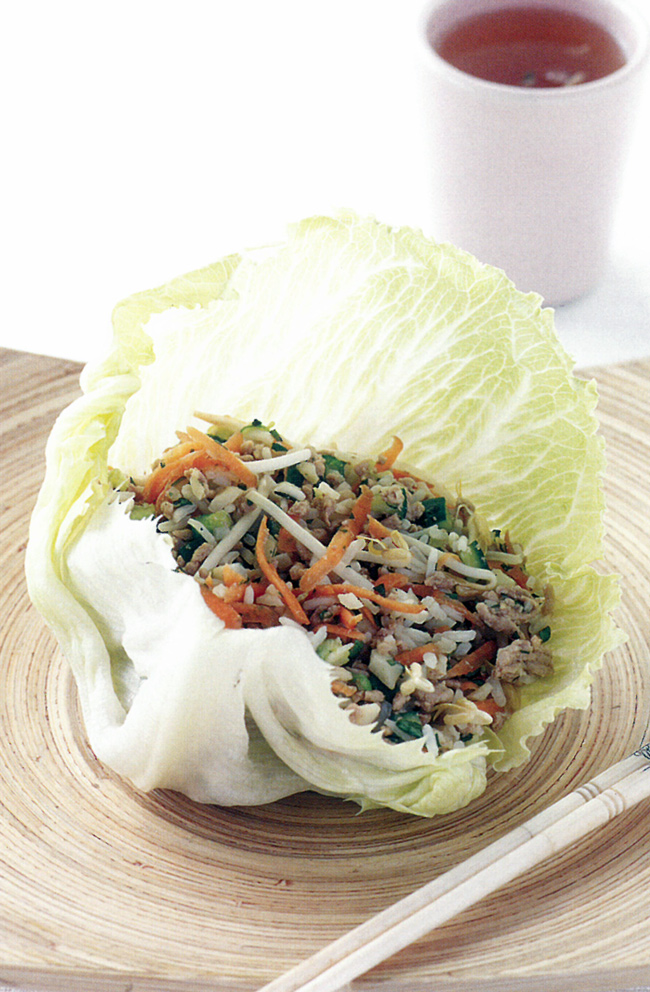 Australian Institute of Sport - From the "Survival Around the World" cookbook
05 Nov 2018
yes, Rice, survival-around-the-world
Rice
Return to top