Alison's Australian sticky date pudding
Preparation time

30 minutes

Cooking time

35 minutes

Serves

4-6

Freezable

yes
Ingredients
200 g dates, pitted and chopped
250 ml water
1 teaspoon bicarbonate of soda
1½ cups self-raising flour
½ cup brown sugar
1 egg
2 tablespoons canola oil
1 teaspoon vanilla essence
1 tablespoon custard powder
375 ml can CARNATION Light and Creamy Evaporated Milk
3 tablespoons brown sugar
3 tablespoons golden syrup
PETERS Light & Creamy Vanilla Ice Cream, to serve
Method
Preheat oven to 180°C (350°F).
Lightly grease a 20-cm round cake pan, and line base with baking paper.
Place dates and water in small saucepan, bring to the boil, and remove from heat.
Add bicarbonate of soda and stir well.
Set aside.
Sift flour into a large bowl, stir in sugar and make a well in the centre.
In a small bowl, whisk egg, oil and vanilla, then add to flour mixture.
Add date mixture and stir gently to combine.
Pour into pan, and bake for 35 minutes or until a skewer or knife inserted into the cake comes out clean.
Leave in pan for 5 minutes, then turn out.
Meanwhile, to make the sauce, put custard powder in a small bowl and gradually add 1/3 cup milk, stirring until smooth.
Place remaining milk in a small saucepan, and stir in sugar and golden syrup.
Add custard mixture to saucepan, and stir over low heat until mixture boils and thickens.
Serve pudding warm with sauce and a scoop of ice cream, if desired.
HINT: Store leftover pudding (without sauce) in an airtight container for up to 2 days. Leftover sauce should be kept in the fridge
Nutrition
| ANALYSIS per serve | 4 | 6 |
| --- | --- | --- |
| Energy kJ (Cal) | 1708 (408) | 1281 (306) |
| Carbohydrate (g) | 74 | 55 |
| Protein (g) | 10 | 8 |
| Fat (g) | 9 | 7 |
| Calcium | | |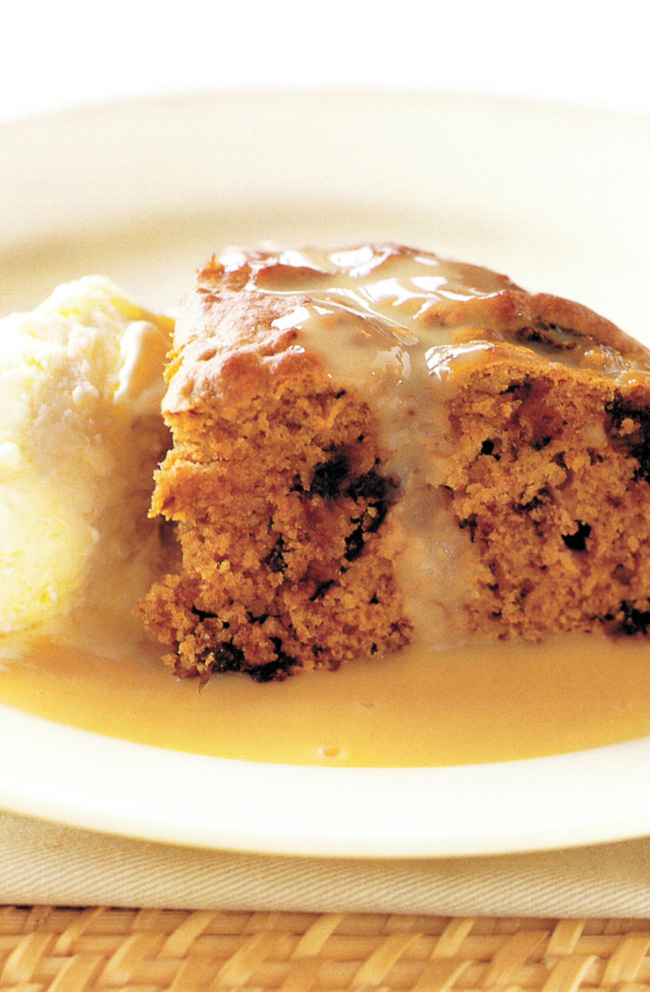 Australian Institute of Sport - From the "Survival from the Fittest" cookbook
05 Nov 2018
HINT: Store leftover pudding (without sauce) in an airtight container for up to 2 days. Leftover sauce should be kept in the fridge
yes, Treats, survival-from-the-fittest
Treats
Return to top