An eye-catching new mural of AIS and Australian Boomers basketballer Patty Mills has been completed as part of the AIS Campus Experience Project, which aims to inspire and enhance the experience of athletes living and training on site.
The ongoing project for 2022 will not only create brighter and more welcoming spaces for athletes, it will be complemented by workshops and resources to assist athletes with the transition to life in Canberra, along with personal development and career advancement programs for those based at the AIS campus.
The incredible mural of NBA champion Mills at the AIS Residence of Champions is the first of many AIS alumni athletes that will be featured as part of this initiative. Profiles of Paralympic swimmer Matthew Cowdrey, Olympic rowing champion Kim Brennan, Basketball superstar Lauren Jackson and Olympic race walking champion Jared Tallent will soon be installed along the Residence breezeway.
The AIS Campus Experience Project also includes plans for a new athlete theatre, improved study, fresh lounge and games room with new equipment and access to recovery equipment also included in the Project.
Street artist and avid basketball fan James Small (Smalls) relished the opportunity to return to his hometown of Canberra to create the vibrant artwork of Mills.
"Being from Canberra, I always thought of the AIS as the pinnacle for sport," he said. "I'm proud to receive the opportunity to do this artwork of someone as successful as Patty Mills.
"It's been really cool to do something that combines two of my passions – sport and art – and to be able to celebrate the current Australian basketball culture, especially after the Boomers' campaign in Tokyo."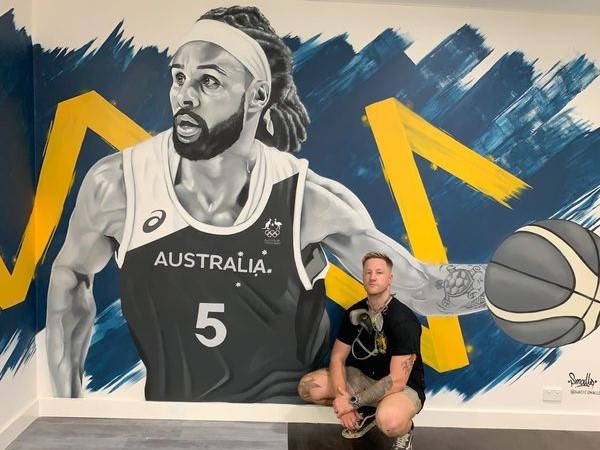 Small spent several days creating the artwork in the HP Room. His latest work recognises the significant and ongoing contribution Mills has made to Australian sport, helping the Boomers claim their first Olympic medal in Tokyo, along with his extensive community involvement with Indigenous youth.
"I've been lucky enough now to do a couple of portraits of Patty Mills. It might sound a bit weird, but he's got good features to paint – his dreads, his beard, even the way the light reflects off his skin," the artist said.
"I loved being able to put in those little extra sweat droplets, the Australian emblem on the jersey, Patty's tattoos … to have those details and challenge myself to complete those in the mural was really fun."
Return to top