For some, mixing an Olympic qualification campaign with coaching, work, and an America's Cup tilt might be overwhelming. But for Olivia Price, who became Australia's youngest Olympic silver medallist at London 2012, the ability to balance life and sport is what win well is all about.
Winning silver for Australia at the London 2012 Olympic Games remains the proudest moment of Oliva Price's sailing career. However, just four years later, the 25-year-old thought her days of wearing the green and gold on the world stage were done. "I went on to campaign in the 49erFX for the Rio 2016 Olympics, and a few things didn't fall my way. So unfortunately, I didn't get selected to go," Price said.
"I kind of needed to take a step back and really look at what I wanted to do. I was halfway through a media and communications degree at university and decided maybe it's time I finish that one off and step away from the sport and go and work in media."
That step away lasted five years but it turned out to be the best decision to not only reinvigorate Price's sailing career, but also find a new passion in helping to grow the next gen of Aussie sailors.
Price explained: "I took five years out of the sport, also coaching and developing younger athletes around Sydney at local schools. And then I guess for me what I saw was the ability of to inspire the younger generation and female sailors in particular is something I'm really passionate about. So to see them kind of thrive and be a vision that they could come to me and ask questions whenever they wanted, it was something that I thought, okay, well, maybe that is somewhere I want to go in the future."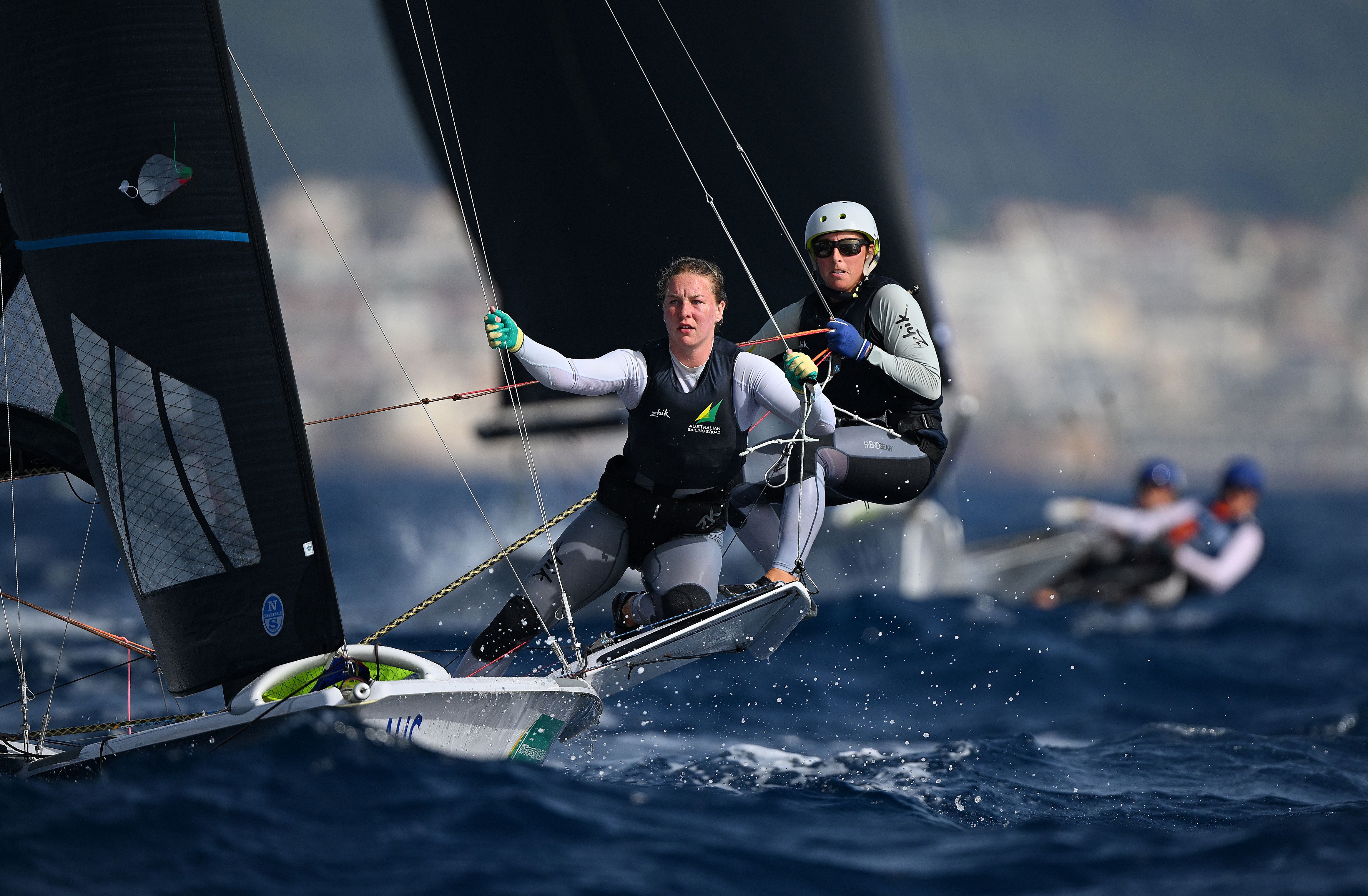 It was through mentoring and coaching that Price connected with family friend Evie Haseldine, and a social-distanced walk during a COVID-19 lockdown laid the foundation for Paris 2024.
"We were walking around during lockdown in my local suburb, and from what she was saying, she was really igniting an energy to maybe step back into the boat," Price said.
"Evie is probably one of the most dedicated sailors I've ever come across and is willing to do the hard work. And I think those characters are what reignited my passion for sailing and for high performance sport.
"Stepping back into the 49FX was a big learning curve. The progression that the sport has seen over the five years that I stepped out was huge and the dynamic is super competitive, but also one that's really fun to be around.
"I love being able to sail every day, it's the best part of my week, it's the best part of my day that I get to do what I love. I then get to balance that with my work and media commitments. I work part time and also have family and friends that I love to spend time with."
Australian Sailing is one of 51 sports and sporting organisations signed up to Australia's High Performance 2032+ Sport Strategy(HP 2032+ Sport Strategy) and its vision, "We win well to inspire Australians".
The pledge to win well is based on the belief that how we win is just as important as when we win and that ambitious performance goals must be balanced with a culture that promotes integrity, fair play, and the emotion, physical and mental wellbeing of all in sport.
Australian Sailing High Performance Director Iain Brambell, who played a central role in the formation of the HP 2032+ Sport Strategy and the vision to win well, said: "I was incredibly proud of the sport system to adopt the winning well strategy. I think it's a missing link to high performance sport and really making sure that we see athletes as people that are not just the performance assets of the high performance system. They really are people and we need to develop them as such and really make sure that part of their journey includes a high performance sporting opportunity."
Want to learn more about Win Well? Click here to meet Boccia Australia's rising star Dylan Schwarz and how Win Well is helping him prove anything is possible.
Return to top