To Thrive with Pride is to encourage respectful, educated, and inclusive communication between participants and Australian sporting communities
Matthew Mitcham
Diving, NSW Institute of Sport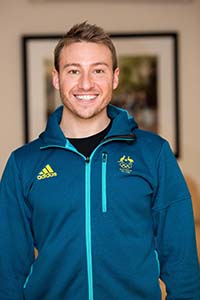 Growing up gay and not feeling confident enough to be my authentic self within my training environment as a teenager prevented me from really bringing my full self to training. Finding myself in a squad where I felt comfortable enough to be myself had the most profound effect on my self-esteem and allowed me to be fully present like never before.
This was a catalyst that took me from retired to Olympic Champion in 15 months before the Beijing Olympic Games, which is why I am so passionate about creating open, inclusive environments to nurture optimum performance.
Rowie Webster
Water polo, Victorian Institute of Sport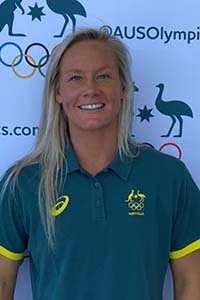 Embarking on this endeavour to be an elite athlete has been a goal of mine since I was 5 years old. I wanted to represent my country at the Olympic Games and challenge myself to be the most successful athlete I could be, I have been fortunate to do that at three Olympic Games.
Having played sport at the elite level for 15 years, I have faced many challenging factors on my journey. The most challenging, yet rewarding of them all, was discovering who I was as a person, and allowing myself to be authentically me.
Growing up and aspiring to be in the world of elite sport, unfortunately had one downfall - I felt there were very few same sex attracted role models that depicted my story. I felt alone. The importance of creating a safe environment for all athletes and support staff to feel safe and accepted as their authentic self is something I prioritise now more than ever. I am extremely honoured to be a Thrive with Pride Ambassador to start the conversations I was to intimidated to start all those years ago.
Nikki Ayers
Rowing, ACT Academy of Sport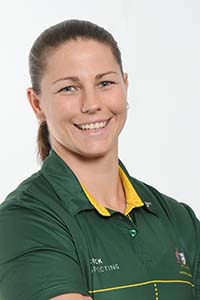 I have joined the AIS Thrive with Pride program to make change, provide education and awareness of the LGBTQI+ community across all sports. I am in this program as a Paralympian and a member of the LGBTQI+ community.
I have been a member of sporting communities that embrace the LGBTQI+ community and others that are lacking in awareness and inclusion. I want to create change that embraces a culture of inclusivity and a safe environment for all community members and specifically the LGBTQI+ community. These changes will allow everyone to perform as athlete at all levels without barriers and negative stigma. I aim to do this by providing education and drawing on my lived experience to improve the culture amongst the sporting world today.
I am a positive role model striving to be a champion of change in creating an environment for all athletes to feel comfortable within their sporting organisation. I want every member in the LGBTQI+ community to be who they are and have a positive and rewarding experience as an athlete and be a proud member of the LGBTQI+ community.
Alexandra Viney
Rowing, Victorian Institute of Sport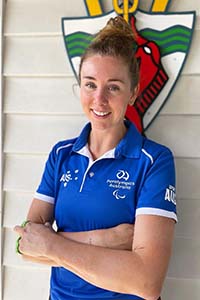 As a Paralympian and a member of the LGBTIQ+ community, l have experienced firsthand the barriers to participation that people in both communities face.
The ability to be open with our own personal identity and self-expression is so important and, for me, to identify with a disability was already proving to be a challenge within society let alone being honest about other areas of my life. For a very long time I felt like I was constantly checking over my shoulder and at the cards that I held in my hand wondering and worrying about when my poker face was going to be exposed. The exhaustion and heartache of not being my true self impacted all areas of my life.
How someone identifies does not predict the calibre of athlete or person, however, it can and has negatively impacted the environment and attitudes to which they and I personally have been exposed to. The good news in that the safe spaces and inclusion experienced within sport is evolving.
I am here to be proactive in working towards greater inclusion, education, having conversations and building on connections with allies current and new, and members of the LGBTQI+ community in both sport and life.
Kerrie Rosemond
Cycling, Queensland Academy of Sport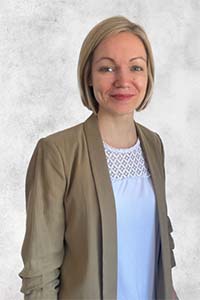 For many years cycling was my job. It occupied my entire world. I spent a large part of my life with teammates, support staff and competitors. Like every high-performance athlete, I needed to be performing at my best across multiple world events in this environment. But at the time, I struggled with the prospect of revealing my identity for fear that others wouldn't accept me. So throughout my competitive career, particularly in the later stages, I masked my authentic self to fit in and feel accepted.
Consequentially, my performance didn't improve. It deteriorated. The more I was concerned by what others might have thought of me should I be open about my sexuality and its impacts on existing relationships, the more I struggled with my mental health. It wasn't until I stepped outside of sport that I realised that by trying to be someone that wasn't, I couldn't be honest, I couldn't achieve the things I set my mind to, and I wouldn't be happy.
I grew up in a household where 'gender orientated roles' were modelled and encouraged from a young age. As a result, I struggled to understand why I was not happy even when conforming to the societal 'norm' for many years. The road to self-discovery has been a long and windy one, but one that has led me to fully realise and appreciate just how great life can be with the right people, support networks and environments around you. Today I'm happily married to my wife and enjoy helping students and athletes on their journeys across a diverse range of roles and careers.
For this reason, I'm a strong advocate for the AIS Thrive with Pride Program and feel proud to support LGBTQIA+ identifying people to participate in sport.
Gracie Elvin
Cycling, ACT Academy of Sport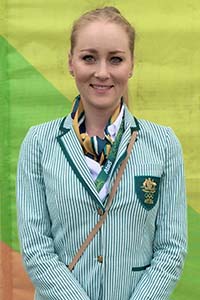 Throughout my career I have often asked myself "If not me, then who?" when faced with realities that I would like to see change. Advocacy for athletes has always been part of my value set and co-founding a female athlete union that strives for gender equality and fairness in cycling set me up to have confidence in myself when I came out to my family, friends, and team-mates, and since then be able to speak publicly about inclusion in cycling and in sport.
I want to be part of the change I wish to see in the world instead of just expecting it to happen. I have had a very fortunate life and I want to do what I can to support other athletes in their journey, as well as educate myself and others on how we can all be more inclusive because sport is for everyone.
Maria Strong
Athletics, Victorian Institute of Sport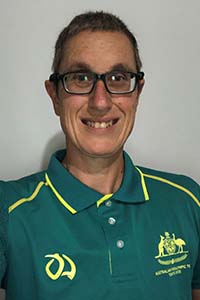 I grew up queer, autistic and physically disabled, with unusual interests and a difficult-to-pronounce foreign surname. Due to my differences, I have been repeatedly bullied, publicly harassed and excluded (or at least made to feel unwelcome or obligated to hide parts of my identity).
For as long as I can remember, I have been driven to make the world a better, more inclusive place. For many years, I did this through volunteer advocacy, peer support and community education in the mental health and disability space.
In middle age, I unexpectedly find myself an elite athlete, an out Paralympic medallist with the opportunity to increase LGBTQ+ acceptance and inclusion in sport.
It concerns me that homophobic (and misogynistic) insults are so much a part of many sporting environments. It concerns me that young (and not so young!) LGBTQ+ athletes often feel that it is unsafe to be out, fearing negative reactions, bullying or discrimination. Sadly, research shows that such fears are justified.
As a community, we can do better. I hope I can be part of the change.
Katerina Paul
Snow, Victorian Institute of Sport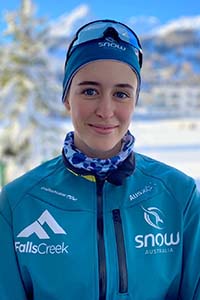 My involvement in the Thrive with Pride program stems from my passion for equality. I want to help athletes of the LGBTQIA+ community feel welcomed and create a safe environment within teams and sporting organisations so they too can thrive to be the best athlete they can be.
Furthermore, I wish to help educate the Australian sporting community and general population about the acceptance and respect of all LGBTQIA+ community members.
Heath Thorpe
Gymnastics, NSW Institute of Sport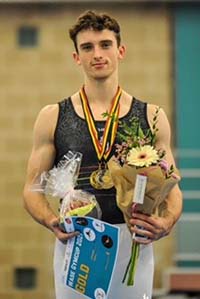 Growing into my identity as a gay man was a complex and difficult process that was contributed to by the intersectional barriers that queer athletes face. My lived experiences have ignited a passion in diversity and inclusion, specifically in the LGBTQIA+ community, and a program such as Thrive with Pride is so crucially important. The first step towards progress and equality is education and understanding.
Through this program, I hope I can help improve the lives of future queer athletes and make sport more accessible for all. Everyone has a right to play sport - it is simply a means of health, movement and community and no one should ever be excluded from that.
Noemie Fox
Paddle, NSW Institute of Sport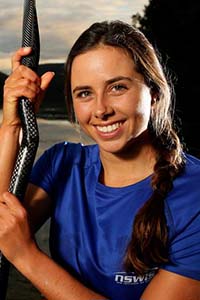 I am proud to be working with the AIS Thrive with Pride program to increase the visibility and accessibility of LGBTIQ+ allies and to help build a culture of equality, understanding and acceptance in the Australian sporting landscape!
Having informed, vocal and visible LGBTIQ+ allies is key to developing inclusive environments within our sporting communities and empowering all athletes, staff and community members to be their authentic selves!
Sharni Williams
Rugby Sevens, NSW Institute of Sport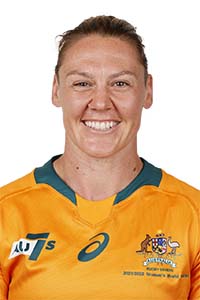 I hope for a world of acceptance and inclusion; acceptance for who people are and for who they want to be with, and for inclusivity of their lives. Sport is such a powerful vehicle for finding who you are and what you are capable of; and it has enabled me to be visible in my community living the life I was given to live and loving the person I want to love. I want this for others. I was once a human in the dark figuring out who I am and letting society determine that for me. I want to help create normality and help educate our sporting world and this program has the opportunity to do this, one sport at a time.
Education is key to including and engaging LGBTIQ+ in more sport by creating a safe and trusted environment.
Dominic Clarke
Gymnastics, NSW Institute of Sport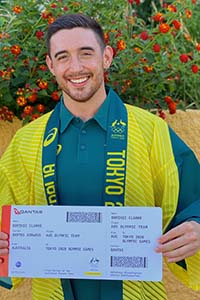 I've been openly gay for 10 years and publicly gay for one, and the reason for that is sporting culture.
It's funny to me that everyone seemed to have a clearer understanding of my sexuality than I did before I came out. Trying to figure out my queer identity at such a young age, while being involved in gymnastics, was confusing.
The questions as to why a boy would be involved in what was seen as a feminine pastime was lost on people. Before I had time to explore who I was I heard comments like, "You're a gymnast, you must be gay" or "Isn't that for girls?" or "You have to wear a leotard, that's so gay."
I spent a lot of time defending myself and my sport to protect the integrity of other male athletes I trained with.
I'm sure most male gymnasts have encountered this stereotype growing up and this results in people in the sport creating a hypermasculine environment and culture. While I can see why lots of heterosexual boys don't want to have an identity pushed on them that many consider taboo, the result is that it creates an underlying homophobia for many in the sport.
For that reason, I want to be able to create change in the sport. To have a new generation brought up in safe spaces where they can do their chosen sport and be who they are without fear of discrimination or judgement, and in doing so allowing us to be more visible to see and celebrate the diversity in all our sports.
Although my experience is mostly isolated to the experience of being LGBTQI+, Pride to me extends so far beyond that. Being proud to be who we are in our bodies, whether it is gender, skin colour, body type, religion etc. I want to help create the change where people finally feel like any sport can be for them no matter how they identify.
Katrina Bateman
Rowing, Victorian Institute of Sport
Listening to, learning from and affirming LGBTIQ+ voices through the AIS Thrive with Pride Program is an opportunity for myself and other allies to make sport - and the wider community a safe space for LGBTIQ+ people. I believe inclusion, visibility and safe spaces result in people being more successful.
The importance of equality, fairness, acceptance and mutual respect should be non-negotiable, and it angers me that they're not and to be one extra voice promoting these values through the AIS Thrive with Pride Program is an opportunity I do not take for granted.
Katarina Kowplos
Shooting, South Australian Sport Institute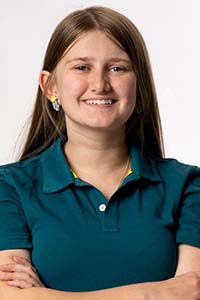 My name is Katarina (I go by Kata) and I'm a rifle shooter who competed in the 2020 Olympics. I currently label myself as bisexual and asexual however I am still exploring this as I grow as a person.
Throughout my sporting journey I always felt I had to hide myself and fit into what everyone was. Before I began competing I had a male partner and I was concerned that if I was to come out to my new teammates whilst dating him they wouldn't believe me and I would feel even more ostracized.
It took me being out of a long-term relationship to finally feel comfortable sharing my sexuality. Being in the closet in this one facet of my life for those 5 years impacted my mental state particularly when I was away with the team.
Being able to be my authentic self within Shooting over the past 12 months has allowed me to bond with my teammates on another level I didn't think was possible.
Despite the work others have done there is still stigma and ignorance across all levels of sport and it is everyone's job to call this out. Starting a conversation about LGBTQIA+ inclusion in sport will increase diversity and allow everyone in sport to reach their full potential.
Return to top